It has become a common trend among people to switch over to advanced toaster ovens replacing the old, regular ovens. Being designed to cook various toasts, pastries, and smaller baked foods, a toaster oven is a great kitchen appliance. Producing lots of heat in a confined space, it carries inherent risk. Despite carrying some advanced safety features, there remain some specific dangers. Therefore, this article concerns with toaster oven safety to keep you safe from potential hazards.
But are toaster ovens worth the investment? Give it a read.
Common Problems with Toaster Oven
Being an electric-powered machine, you can experience lots of malfunctions or mechanical errors. But regarding your safety, you can get 4 types of problems with these ovens.
Burning: Producing immense heat, this oven can cause burning on a small scale like all heating tools. Outer parts like the glass door can really get hot enough to burn your skin with a single touch. Again, the confined space intercepts lots of heat which can provide painful blisters.
Catching Fire: Numerous reasons can trigger firing for the frame. Accumulation at the bottom, leaving something at a higher heat or long enough, the particle can easily catch fire. Also, serious design problems can lead to a fire at any moment.
Explosion: Although reports of explosions are comparatively less than other problems in the list, it comes with sufficient risk. In the case of an extremely hot oven, the glass door can explode, sending the shattered glass to a considerable distance.
Electric Shock: Appliances that use high-voltage are prone to electric shock and this is no different either. Designed to generate heavy heat with high-voltage electricity, the toaster oven can even give a fatal shock. Accidental bumping to heating elements can easily cause this enormous problem.
But before proceeding to the general safety measures, it's vital to have a clear concept between conventional vs. microwave vs. toaster? Clarify your thoughts now!
General Safety Measures for Toaster Oven
Go Through The Instruction Manual Properly
Don't get bothered to go through the instruction manual that comes with every toaster oven when you want your safety. People are smart enough to operate kitchen appliances easily and they simply ignore the manual. But it contains the basics of safety measures that will keep you safe from any hazards. In fact, all sorts of safety concerns are available there which helps to operate with utmost safety.
Leave Sufficient Space Around The Oven
Extreme heat generates in confined spaces with a toaster oven and you need to leave some space around. Regardless of your cooking ingredients, you should try to find someplace open enough to take the heat. The blank space will help to dissipate considerable heat from the outer surface. And it certainly keeps the outside and your skin safe from blisters.
Safe Cording & Plugging to Power Source
Many design flaws can lead to inherent dangers within seconds due to wrongful connection or plugin. Check the current power condition of the house and connect the plug with the source with full care. Advanced toaster ovens have automatic shut-off launching system and you really need to check it before every application. Avoid any sort of bumping to the built-in heating elements.
Attended Customization & Observation
Different types of toasters offer variable customizing facility and you have to choose one that meets your needs. You can get to know about toaster oven in details right here.
Whichever your model is, you have to set the right temperature and time. Improper settings can easily cause your food to burn or fire. Don't leave the oven unattended for no reason and keep the interior under your observation.
Careful Insertion & Removal of Foods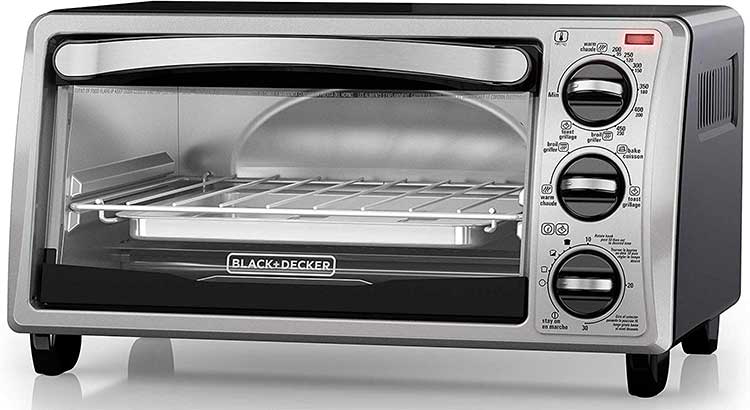 Although insertion may seem to be unimportant, you have to care so no particles get accumulated at the bottom. Also, you should check the interior and remove residuals or debris if any. Safe removal of foods from the hot oven is the most crucial part. Try to use gloves while removing your meal or unplug and leave the oven for cooling down while getting your toast. But, this Black and Decker toaster oven got me hooked with its auto shut off feature. Absent-minded people like me will find this helpful. Because now they don't have to worry about whether they have turned off the toaster oven after use or not.
Operate in a Safe and Convenient Place
When you have to work with something that produces immense heat in extreme-scale, you have to find a suitable place for your cooking. As mentioned earlier, you will need some open space and this is why you should choose someplace having heat-insulating surface. If you got children in the house, then it is better to get the cooking done somewhere high above their reach.
But for some baked products, you can get a better result using the toaster oven.Want to learn the best ways to reheat your food quickly for a party with this toaster oven? Visit here.
Verdict
As you are dealing with electric machinery here, you can't have a null risk. All you can do is to follow the safety measures regarding the specific tool. Many tend to ignore toaster oven safety until they go through any dangers. With modern toaster ovens, they tend to think of ovens completely safe. But you can get the utmost reliability and safety if you take sufficient precautions regarding our safety measurements.
In case if you have any question feel free to visit the FAQ section.