Everyone loves a good toast in the morning. While there are others, who take out the leftover pizza slice from their fridge to heat in their oven for breakfast. But what if you like to have both? Won't it take your entire morning just to preheat the oven for the pizza and make toasts in the toaster? Yes, it will unless if you have a toaster oven at your disposal. And here in the best toaster oven reviews, I will introduce you what you're missing out on. Moreover, help you to find the perfect one to revolutionize your cooking experience altogether.
The best toaster oven reviews 2023
What's wrong with the conventional oven or the toaster we have right now? To be frank, there isn't anything wrong with them; the machines are still relevant in the modern kitchen. However, they are becoming little obsolete with every passing day.
Let's start with the ovens. Such devices are great for heating up cold dishes and baking stuff but aren't that good for your wallet. As they cost a bucket load of money, wastes a lot of energy and if you have a small kitchen, no way you're getting one installed there. On the other hand, you got to be honest; the cheap toaster machines aren't any good. While buying the expensive ones just for the occasional toasts isn't a sensible move either.
So, why not get a toaster oven instead? It can make toasts, bake and more. Things will be much more convenient in the kitchen if you have this by your side.
But are toaster oven worth the investment? Give it a read.
But, I'm guessing you don't know where to start looking. Let this toaster oven reviews show you the way then. Here, I've picked the top 15 toaster oven manufacturers and selected three devices from each brand. So, you won't be going empty-handed from here for sure.
But before proceeding, it's vital to have a clear concept between conventional vs. microwave vs. toaster? Clarify your thoughts now!
Comparison Chart
Black and Decker Toaster Oven
There is no surprise which brand is number one on the list. When you look for high-quality kitchen tools, the first name that pops into your mind is Black and Decker. And why not? This Baltimore based company turned a small power tool business into a global empire. And as you know, they didn't stop with the power tools as they now rule the kitchen tools market too.
So, it's obvious that they would have some pretty great toaster ovens to be part of our modern kitchen. And picking only 2 was an impossible task for me. As every other Black and Decker toaster oven offers some traits that make them so special. Simple to control looks great in the kitchen and performs better than regular ovens.
As it turns out, I could have gone with any model and it would still be the showstopper. Yet, I've gone through the trouble to find the two ultimate Black and Decker models. And finally, I've found the ones that deserve to make the cut in the best toaster oven reviews list. Let's find out.
1 of 15
Black and Decker CTO6335S – Where efficiency meets versatility: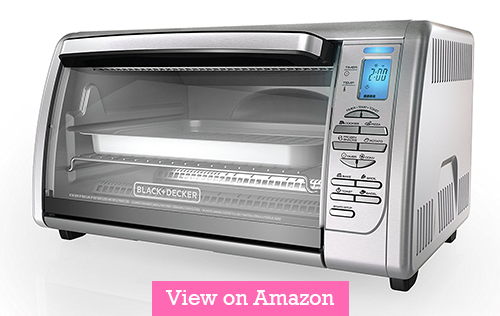 You don't have to put up with the regular oven for the sake of cooking meal just for yourself. It's like punishing yourself as it sucks a lot of power, making the electricity bill go up. Plus, you feel like stranded in the middle of a hot dessert in your own apartment. So, why not cook in a more efficient way with the Black and Decker CTO6335S toaster oven.
Unlike the 4 slice toasters, here you actually can do more than toast some loaves of bread. Now, bake the delicious lasagna or cookies with it without the regular oven. I'm not making these up as you can do all that with this machine. There is a fan inside the oven which helps with the process. It circulates the heat on all sides giving the perfect temperature when bake function is on.
Besides making some toasts or baking the cakes, there is a lot more the CTO6335S can do. This toaster oven can handle pizza, frozen foods, potatoes and it can even broil. These preset settings make life little bit simpler in the kitchen. That's because these pre-existing settings come with a fixed temperature and cooking time. So, you don't have to be the one trying to figure out the right heat and time anymore.
But, this Black and Decker toaster oven got me hooked with its auto shut off feature. Absent-minded people like me will find this helpful. Because now they don't have to worry about whether they have turned off the toaster oven after use or not.
Want to learn the best ways to reheat your food quickly for a party with this toaster oven? Visit here.
What stands out?
More than a toaster oven: The model comes with convection cooking feature.
Perfect oven replacement: Prepare food for a small family using this appliance.
Cook with ease: Efficient one-touch cooking makes cooking simple.
Keep things under control: The device offers safety features like auto shut down and a cool exterior.
Take your time: Cook for longer as the timer can be set for 2 hours.
Quick cleaning: There is a crumb tray for easy cleaning.
How it lets you down?
The display isn't lit: The only negative will you hear about is its display. That's because they forgot about the backlight in the display.
Verdict:
As you clearly can witness, the Black & Decker CTO6335S is an exceptional toaster oven. Easy to use, well designed and can be used for more than just making some toasts. So, if it doesn't work for you, I don't know what will.
2 of 15
Black and Decker TROS1000D – Keep your countertop free: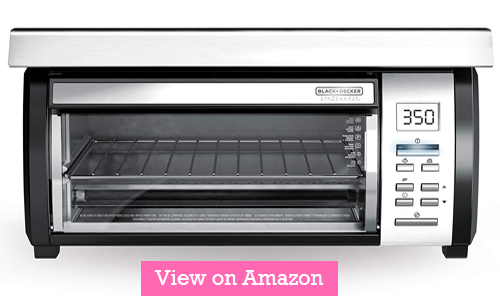 Why even sacrifice the empty space on the countertop for a toaster oven? Why not mount the thing under your kitchen cabinets. Black and Decker used their ingenuity and came up with a way to use the unused area. They've designed the TROS1000Dto go right under the cabinets. So the countertop remains empty and you can keep other things there. But this isn't a one-trick pony. There is more to it.
The Black and Decker TROS1000D model toaster oven uses lightweight stainless steel as its material. Therefore, much to your surprise, it is quite easy to move around. But in no way, you can say it is a delicate machine. The machine oozes of quality material and the build is of the highest standard. So, you can expect it to be around for some time in your kitchen unlike other appliances of yours.
The small toaster oven has an interior that offers enough room to cook. Not that big too put a big turkey. But it is enough for your 9-inch pizzas or 4 slices of bread. And while we're on the subject of bread, this model has 7 different toast levels. So, everyone can get the right shade and crisp on their toast.
But, compared to the other best toaster ovens in this list, this model might not have a lot of functions to play with. Only the standard bake, toast and warm option on it. Still, it is enough to make sure you don't go running back to your regular ovens.
What stands out?
Use it forever: The TROS1000D model toaster oven is built to last.
Spacious interior: Get a 9-inch pizza inside it without any difficulty.

Play with your toasts:

This can brown your toasts from both sides in 7 different browning levels. That's music to the ears of those toast enthusiasts.
Be safe: Like the other Black and Decker model, this one also has the auto shut down feature in it.
Get warranty: The TROS1000D toaster oven has a 2-year warranty.
How it lets you down?
Things get burnt: One real issue with the Black and Decker TROS1000D is its rack. Quite honestly, it's too high and close to the heating bar at the top. So, there is a good chance to get your food all burnt.
A bit confusing: The appliance isn't that easy to use. That's because they got the button systems a little too complicated. Like the timer. It can only be set for a maximum of 30 minutes. So, if you need to bake for longer then that, you need to set the timer twice.
Verdict:
This small toaster oven is perfect for those people living in tiny apartments. Even great for the people who love to travels in their RV's. And even if you don't have issues with space in your kitchen, you can still rely on this.
Hamilton Beach Toaster Oven Review:
Look inside any kitchen around the world. It doesn't matter if it's a small kitchen or a big commercial restaurant kitchen, there is one thing in common. And that is the Hamilton Beach equipment lying around in the pantry.
Since its humble beginning in 1910, the company has become a household name. And people still look up to this brand while looking for kitchen gears. So, I've done the same for my best toaster oven reviews.
I admit the brand name played a huge factor for me to look into it. But at the end of the day, it is the actual Hamilton Beach toaster oven that kept me hooked. As their premium quality machines will put any conventional ovens to shame.
Meanwhile, they have some of the best looking toaster ovens in the business. It was a challenge actually to pick only two as each model exceeds your expectation. Even so, after some gruesome inspection, I've found the two that provides the best of both worlds. They can handle serious baking needs. Plus, your toasts will be just the way you want.
3 of 15
Hamilton Beach 31334 Toaster Oven- The premium Toaster Oven: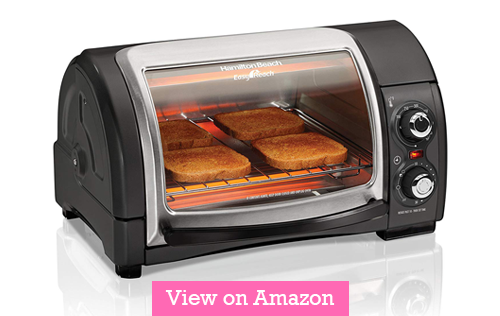 From all the toaster ovens, this Hamilton Beach stands out thanks to its unique design. Unlike other machines, the door of the appliance doesn't get in your way. That's because it rolls up instead of opening to a side or to the bottom.
The Easy reach also has a lot of modern features in it that makes it perfect for both small and big kitchens alike. Not to mention, the 1200 watt machine heats up real quick which saves you a lot of time if you're in a hurry.
This toaster oven model has only a 30-minute timer. For baking and other cooking, it might not be enough. So, it could have been an issue, but it isn't. As this unit has a special stay in mode. Thanks to this, you can cook even after the 30 minutes are up. Anyway, you need to shut the appliance manually off or everything will get burnt.
I loved the fact, this Hamilton Beach toaster oven kept things really simple when it comes to the control panel. There isn't much going on with it. It got only two knobs on the front. Where the upper knob works as both temperature and cooking function. While the below one works for changing toast shades and the timer itself.
Cleaning your toaster ovens can be an irritating job. With most appliances it is. The same couldn't be said for this Hamilton Beach model. As one of its best features is its sliding door to the top. It goes up like your barbecue grills, inviting you to clean the inside. But there is a great twist. The door comes right off the appliance if you feel like cleaning it too.
What stands out?
Compensates for its timer: The stay on function lets you cook for more than 30 minutes.
Easy to manage: The two knobs on the panel controls all the settings.
Cleaning is a joy: The door goes up, giving enough space to clean as it doesn't get in your way.
Small footprint: The toaster oven takes very little space on the countertop.
Offers a lot: Besides toasts, the 31334 model is perfect for preparing meals and snacks too.
What lets it down?
Lacks precision: The only downside to the model is its dial-up system. It's hard to get the precise toast shade or temperature using such a system.
Verdict:
The Hamilton Beach 31334 model isn't the perfect toaster oven to replace your conventional oven. It is great for toasting, broiling and you can do a little bit of baking. But it won't be as good as your regular machine. However, for a quick and simple solution, it is a fair choice. There is no doubt about this.
4 of 15
Hamilton Beach 31123D – Cook with convection: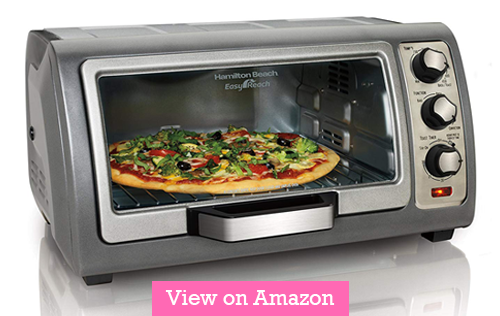 The previous mentioned Easy reach model is nice but it isn't for everyone. I'm assuming it isn't for you too. In that case, you don't need to panic. As Hamilton Beach knows how to make a toaster oven that everyone will appreciate. Like this upgraded Hamilton Beach 31123D. This one has the same design but with a bigger dimension. But that's the tip of the iceberg. Inside, there is a lot of things going on.
The previous Easy Reach model might let you down when it comes to baking. But that's unlikely to happen with the Easy Reach 31123D. Why? That's because this toaster oven has a convection fan in it which distributes the heat evenly. Now, the top and bottom heating elements can cover every area with ease.
The control panel in this model is like the earlier one. Yet, this is much easier to understand as it has 3 knobs where every knob has only one task. The first one is for choosing temperature which can go as high as 450F. The second one is to choose different cooking functions. Similar to its predecessor this one has the same functions. The only exception is you get the convection bake feature in it. The last one is for the timer. There you will also find the stay on feature.
Back to the convection feature. It makes the appliance more acceptable as an alternative for the regular ovens. But the thing that stands out most for me is its efficiency. I've never seen a toaster oven that heats up so fast. If I put this in numbers, this toaster oven preheats 30% quicker than any other model.
What stands out?
Cook foods evenly: Thanks to the convection fan, the heat goes around at all sides equally.
Simple control panel: With 3 knobs on the control panel, the toaster oven is quite easy to manage.
Cook in a flash: Get the machine on and start cooking right away as it takes only a few minutes to heat up.
Larger interior: This model can cook a 12-inch pizza or 6 big slices of bread at a time.
Reasonable option: A convection model at a very reasonable price, it can't get any better.
What lets it down?
Things get hot:: The outside of the toaster oven can get a bit hot. So, be careful while using it and keep this out of reach of the young ones.
Verdict:
There is no doubt that this Hamilton Beach is one of the best toaster oven currently available in the market. It has everything you can ask from an ideal appliance and more. Now the big question is whether you feel the same or not?
Breville Toaster Oven:
The next brand is famous for their sandwich toaster. I'm not making this up as Breville is the synonym for such appliance. And there is a rich backstory behind this. Right now, I don't want to get into it. So, all you need to know is that the Australian brand is the original sandwich toaster maker.
Since its beginning in 1932, the company has come a long way. As they do offer more than sandwich toasters. They manufacture a wide range of kitchen appliances. And one of the most notable ones is their excellent toaster oven's' line.
The brand has some of the smartest toaster ovens in the market. Their appliances come with all the modern features that make cooking effortless. Meantime, they aren't that complicated to use. They have found the middle ground that makes their devices more practical in the kitchen.
And there is no doubt the models I've picked can go toe to toe with other devices in the best toaster oven reviews list. But they also portrait certain qualities that make them stand out from the crowd. So, let's not wait anymore and get into it to find out what Breville toaster oven has to offer for us.
5 of 15
Breville BOV650XL- Top of the line toaster oven: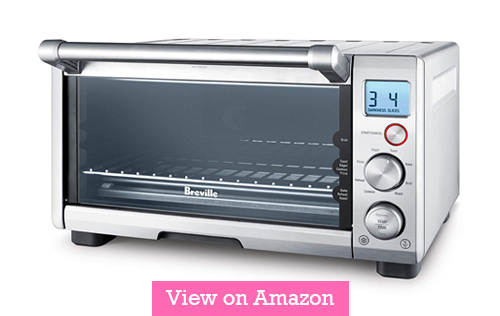 If you're looking for a stylish, compact and versatile option then Breville got the best deal for you in the form of the best 4 slice toaster. This countertop style toaster oven is perfect if you're very limited space in the kitchen. And it is also great to have as it got a lot of power to offer. This Breville toaster oven is a brilliant machine once you get to know more about it.
This toaster oven delivers 8 different cook settings. Get your toast, bagel, bake, roast, broil, pizza, cookies, and reheat just using a single tool. You don't even have to adjust the time and temperature, as once you choose an option, it takes care of everything.
Like the Hamilton Beach models, this toaster oven also uses dials in its panel. But unlike theirs, you don't have to worry about precision as it got a digital display on it. So, you exactly know what settings you are using, instead of going with your intuition.
But it's the simple things that make this so special. They have put together some smart options that make cooking easier. For instance, the temperature conversion button. Thanks to it you can go right back and forth between Celsius and Fahrenheit. This might not seem that important of a feature but while following recipes this can be a real lifesaver.
And yet, it isn't the most brilliant thing that makes it the best 4 slice toaster. That thing goes to their frozen food button. This is a standard feature on most devices nowadays. But the one in the BOV650XL is different. Their frozen food setting takes the defrosting time in account while cooking.
What stands out?
So many variations: You can toast, bagel, bake, roast, broil, pizza, cookies, and reheat your foods.
Best of both worlds: It uses analog dials to operate the machine but also has a nice LCD display on it.
Make things simple: The temperature conversion and the frozen food feature makes cooking much simpler.
Take time cooking: The timer can go as long as 2 hours. It is pretty generous if you compare it with other appliances.
Know when it's ready: The toaster alerts you when it preheats and also keeps you in the loop when the cooking is complete.
What lets it down?
Doesn't convince with convection: The little play with words give you a clear idea what I'm talking about. For all the money you'll be paying for it, you won't be getting the benefit of convection cooking.
Verdict:
This Breville toaster oven unit is just amazing. It might be expensive, but for all the amazing features and the state of the art aesthetics, it's worth spending every damn penny. Don't take my words for it. Just give it a go and you'll know what it's all about.
6 of 15
Breville BOV800XL – A smart appliance for a smarter kitchen: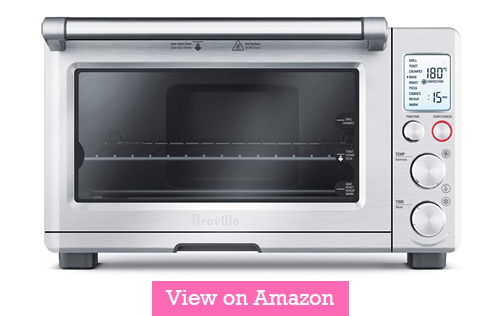 If you wish to have a better version of the previous Breville model, you can actually have one. Breville produces a bigger and smarter toaster oven for the elite. And its name is Breville BOV800XL.
So, why It's for the elite? That's because like all other Breville appliances, this cost some serious money. And as we know, not everyone feels comfortable spending such money for a toaster oven. But if you ask me this thing compensate for the expense, as it comes with an array of modern features.
Like the Breville BOV650XL, it got all those preset cooking features. But this one has a total of 9 features where the previous model provided only 8. The extra feature that you will be getting is the warm option. Now, you can keep your dishes hot before taking them out of the toaster oven.
The Breville smart oven BOV800XL presents users with the blessing of convection cooking. It isn't anything revolutionary as many appliances today have this feature. But here the convection cooking experience is being elevated to a whole new level. Breville uses something called the Element IQ technology. Thanks to it, the machine can sense and send the heat to places where it is most required. Now, you can get even cooking every single time with precision.
Till now, the Breville BOV800XL has the most spacious interior from rest of the devices in this toaster oven reviews list. So, how large is the interior? For your information, the inside of the toaster oven can hold 6 big bread slices or you can put a 13-inch pizza in it. So, plenty of space there to cook a small chicken in it without any trouble.
What stands out?
More features: You get 9 preset features with this model to get started cooking.
Convection cooking experience: The convection feature with the help of Element IQ technology is superior to most other appliances with the feature.
Bigger and Better: The interior presents enough room to cook an entire chicken at once.
Stealth mode: You will hardly notice the convection fan is running when the feature is in use.
Take control: Customize the preset settings according to your need.
Comes right out: The magnetic pull of the door makes the rack come right out of its place when you open the door
What lets it down?
No light inside: Obviously, you know this thing doesn't come cheap. So, you expect the interiors to have lights but for some reason, Breville didn't.
Budget issues: There is no surprise that this costs a lot of money. So, it might not be the ideal appliance for your kitchen considering you have a tight budget.
Verdict:
If you're not shy about spending big bucks on a toaster oven then pick this one without any second thought. At least, you won't be disappointed that's for sure.
Cuisinart Toaster Oven:
Cuisinart is one of those American brands that started its journey way back in the year 1971. And since its beginning, the company never had to look back. The home appliance makers first came to limelight by putting an electric food processor in the market. That thing took the market by storm. And as we all know, the company has been making top-notch kitchen tools ever since.
The brand had expanded globally and it is coming with new inventions every year. The most exciting of them might be their toaster ovens. It is one of those appliances that they have perfected over the years. Cuisinart sensed what the market was missing and acted upon it. They have delivered some iconic machines that have made them the powerhouse of the industry.
They have some awesome mid-range toaster ovens that offer quality build. Besides, they got all the advanced characteristics that even the most expensive devices don't offer. That's why most of their models are an ideal backup for your conventional ovens. As most of them got convection cooking feature. This is pretty much a standard feature in their tools which makes me really happy. Other brands should take this leaf out of their book and do the same.
7 of 15
Cuisinart TOB-60N1 – The classic countertop toaster oven: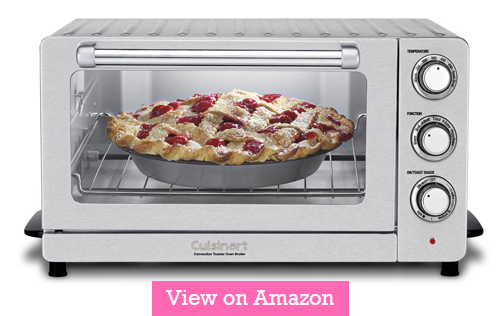 Coming from Cuisinart one of their most classic and best-selling toaster oven, the TOB-60N1 . This need to be on any toaster oven reviews list. That's because this mid-range model stood the test of time and still going strong.
This classic toaster oven can be your countertop partner for so many reasons. If you take from the top, the stainless steel exterior suits any kitchen. And if you're looking to turn up heat quickly to prepare your food then you can turn to this 1800 watt little beast.
When it comes to toasts, this is the best appliance. You will get the perfect toast every single time. You don't need to tweak the toast setting every time as once you get that adjusted, the appliance will keep that setting for later use. So, throw some bagels or bread inside and start toasting.
There are a bunch of features in it to make certain users don't get hurt. For instance, the rack injector which makes the rack come out when the door is open. No more risky business trying to get the hot food out. Then there is the auto shutdown feature which shuts the thing down if it isn't in use.
And as I've said earlier, the rack slides out which makes it easier to clean. Plus, the cleaning process gets much simpler as the interior being nonsticky. Besides all that, I love the fact, the machine has two rack positions in it. And the best part, both the racks can be used at once. This changes the game altogether as now you can prepare more foods at a time.
What stands out?
Perfect toast every time: Once you've chosen the perfect toast setting, you don't have to fiddle with it anymore as the device keeps that setting for use.
Good safety measures: Auto eject racks and auto shut down features are installed to keep folks safe from accidents.
Cleans really good: The interior is non-sticky. Therefore it's much easier to clean.
Multiple cook settings: The Cuisinart offers 5 preset cooking settings which include bake, broil, warm, bagel, and the toast.
No heat outside: Unlike other toaster ovens, the exterior doesn't heat that much.
Get warranty: This unit has a 2-year warranty on it which is quite generous, to be honest.
What lets it down?
No timer: A real big nuisance of Cuisinart TOB-60N1 is its missing timer. You need a separate timer while cooking like the old times.
Dark Interior: This unit also fails to offer light inside it. They should have considered this but somehow it went unnoticed.
Verdict:
This Cuisinart toaster oven has been serving for years now and still, it is one of the best in the business. You won't find a better appliance to serve you for years. The 2-year warranty will add some extra incentive if you need some.
8 of 15
Cuisinart TOB-195- Sensing the heat every moment: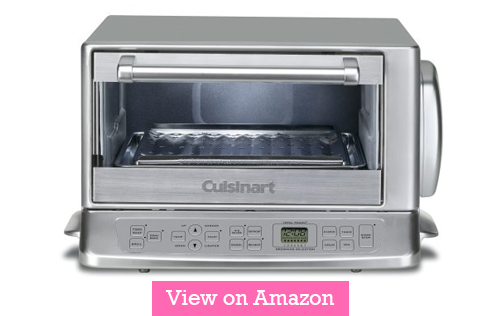 This top of the line Cuisinart appliance will make any toaster oven enthusiast happy. This is the perfect equipment that can truly replace your conventional oven for good.
The stylish countertop model has a unique design as the buttons aren't on the side. Instead, they go at the bottom half of the appliance. And that's not the only unusual thing about it. This Cuisinart TOB-195 has something called an exact heat sensor. This keeps monitoring the temperature so that every second it's the same heat inside the oven. It makes sure the heat never goes down too much or up which can compromise your cooking.
While we're on the subject of heat. Unlike other models, it doesn't take that long to get heated. You can start broiling in minutes after starting the appliance and takes about 2-3 minutes before toasting.
For bakers, the toaster heaven has a huge surprise. This toaster oven has the longest timer of all the appliances mentioned here. The timer in this appliance goes as long as 4 hours, giving enough time to bake anything. And even if you're not a baker then still you can enjoy the machine. As this thing has all the essential preset features to help you out in the kitchen.
While checking the toaster oven reviews, you might not find many machines that are so easy to operate. At least, compared to this Cuisinart model, they are quite complicated. This thing is a dream for those tech newbies. And there are various reasons for that. For starter, the control panel takes a large space at the bottom rather than being on the side. And it has its advantages. As you can notice they had enough room for the touchpads to place. Things aren't cramped. Plus, the display is clear and well lightened, so it's easier to read even in dark situations.
What stands out?
Exact heat sensor: Monitors temperature to keep it stable at all times while cooking.
Heats real quick: The toaster oven preheats in 2-3 minutes which is quite outstanding.
Cook for longer: It offers 4 hours of timer setting which is more than enough for cooking any dish.
Looks impeccable: The metal finished appliance looks marvelous.
Get convection: The model has the convection feature on it, so get even cooking at all sides.
What lets it down?
Not flexible enough: A big letdown is the preset settings. They make cooking easier no doubt, but they cause some problems too. You can't change the temperature nor the timer on some preset settings. So, following recipes can get little too complicated.
Access to tray: For some reason, they thought it would be better to get the crumb tray out from the back. But they are wrong.
Verdict:
From all the toaster oven reviewed so far, this is the one that replicates the delicious cooking factor of a traditional oven the best. If that doesn't sound good enough to you then nothing will.
The 5 Best 4 slice toasters:
The 4 slice toasters are a different breed. There is no way one can confuse one for a toaster oven. The design gives it away. The typical toasters are quite the compact household appliance. But compared to the toaster ovens, they don't do that much. They are just good with the toasts.
However, over the time, there has been a significant improvement to one of the most used kitchen appliance. It still is a one trick pony but it has polished that trick. As now, we can use more than pieces of bread. And some of the units can handle the frozen ones. So, if all you want your damn toasts then it might be worth to take a look at some of the best 4 slice toasters.
09 of 15
Black and Decker TO1303SB – The best budget 4 slice toaster: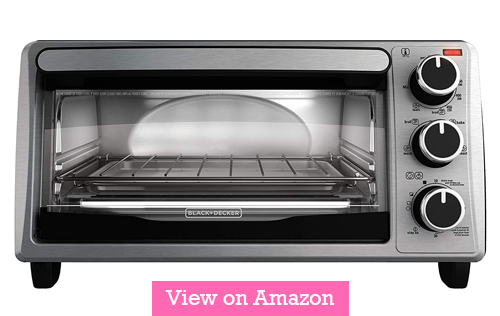 This countertop model is compact. Meantime, its stainless metal finish complements the overall decor of any modern kitchen. But it's more than just an elegant, reasonably priced tool, as it packs some serious performance. This 4 slice bread machine toasts and even bakes better than your conventional ovens.
Real toast enthusiasts will love this appliance. This gets perfect toast every single time. It toasts both sides identically, unlike many toasters. There isn't a lot of functions going on in this toaster oven. Just the usual temperature controls, 4 different cooking functions, and the timer. There are three big knobs on the right side of the front of the oven that indicates these functions. They are quite straightforward, so anyone can manage them.
This tool is more like a toaster oven than a 4 slice toaster, to be honest. It's designed like a toaster oven and it works like one too. As mentioned, there are 4 different cook settings. It toasts, bakes, broils and warms the food. At least, I've never seen a toaster that can handle more and if you throw in the other features, it proves my point.
What stands out?
Even toasts every time: Toasts your bread evenly on both sides.
Be in control: The control panel is easy going even for a total newcomer who has never operated such appliances.
Saviour of space: The TO1303SB is quite compact in size.
Types of cooking: Boil, bake, toast and after done with all that keep them warm using it.
Save big bucks: This model costs under 30 bucks. So, no doubt, you will be saving a lot of money.
What lets it down?
Not enough space: It saves you space in your kitchen, but doesn't allow to put food inside it.
One rack, that's it: There is only one rack in this Black and Decker TO1303SB. So, it's less flexible while dealing with towering foods.
Verdict:
Is it a flawless 4 slice toaster? No, it isn't. But does this do the job of providing the finest toast in the morning? Yes, it does that and more as you already know by now. And for that price point, it is a steal.
12 of 15
Hamilton Beach 24810 – The 4 slices of heavenly toasts: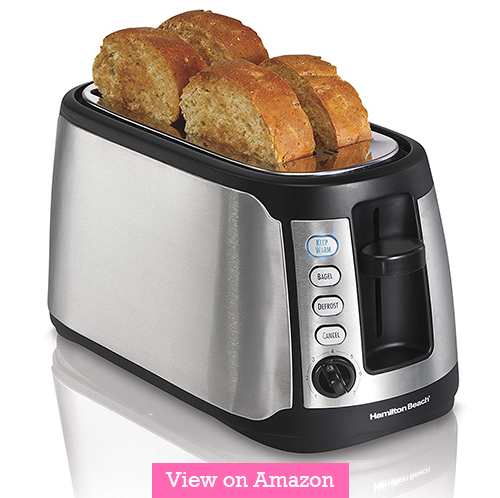 At some point, one starts to think the toast game couldn't get any better than it currently is. I've made the same mistake until I've found the Hamilton Beach 24810 toast maker. This 4 slice bread toaster from the Hamilton brand is a gift to mankind.
In comparison to the Black and Decker model, it is pretty bleak. Probably because it got the iconic toaster design. Where else the Black and Decker 4 slice machine was more like a toaster oven. However, in performance, the 24810 doesn't shy away to show why it's considered one of the best toaster.
It might look like a normal toast maker but in reality, it's a different type of beast. Because this thing not only makes the toasts but also keeps them warm until someone takes them out. There is an option in the toaster which keeps your toasts warm for at least 3 minutes. So, you don't need to stand over the machine. You can do all the other stuff and when it's ready, the toaster will notify with a loud enough beep.
This 4 slice toaster has only 2 slots, but they are long and deep, Therefore, 4 long pieces of bread and bagels will get in without any trouble. And the best part, you can throw in frozen bread and bagels as the machine has a defrost option.
What stands out?
Not your typical toaster: It can toast bread and bagels where else some toasters only do bread.
Spacious bread slots: The 2 slots toaster got enough room for chunky 4 slices of bread or bagel.
Get more than toasts: It can defrost your frozen food before toasting them.
What lets it down?
The sound annoys: The appliance doesn't make any sound at all when it's in use. Let that get out of the way. The irritating sound that I'm talking about is its beep. It can be a little bit loud. That can get to your nerve.
Verdict:
The days of standing over your toaster are up. Let the toaster do all the work. You just enjoy your perfect morning breakfast with some fresh toast with jam.
13 of 15
Breville BTA830XL- The smartest 4 slice toaster on the planet: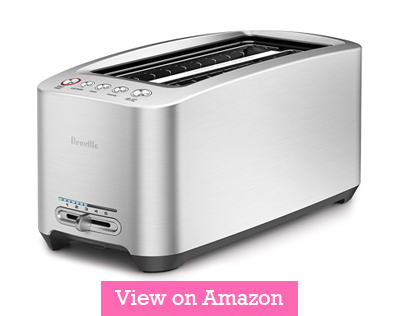 To be brutally honest, this Breville BTA830XL toaster is just not the most expensive 4 slice toaster in the list. Probably, it is more expensive than most of the toaster ovens that made here.
However, while paying such big bucks, you already can expect good things from it. And from the very look of the appliance, you can see, it oozes of excellence. The sleek stainless design makes it suitable for modern kitchens. Plus, the performance it packs is something you can get behind.
The Breville toaster has only two slots. But you can easily put 4 slices of bread between them as each slot are 10 inches long and 6 inches deep. Next, start toasting by pushing the toast button. However, if you think it isn't done properly, you can add a little more time for toasting. There is a dedicated button just for some extra bit of time to get the perfect toasts.
There isn't a lot of features going on with this toaster. Besides, a bit more setting, 4 other buttons are there on the panel. One button works as both toast and cancel. Then there is one for the bagel. One for the frozen loaves. Pretty much standard stuff. The only unique feature is its lift and looks button. This gives you the ability to monitor your toasts while the machine works on it. There is the LED indicator which also keeps you in the loop. As you exactly know when the slices will pop right out of it.
What stands out?
Long bread slots: Big enough to toast 4 large chunks of bread at once.
More time to toast: Add more time to your toast with the dedicated button.
Elegant function: Check on your toasts by lifting them up and put them back if it needs more time.
Follow the toasting progress: The LED indicator shows how much time remaining before the toasts are done.
What lets it down?
It's not for everyone: Not everyone can afford this toaster. It's too expensive. No surprise there as it's a Breville appliance.
Verdict:
The Breville BTA830XL is a well-engineered piece of machinery to provide the perfect toasts. It's just more than your typical toaster as this motorized appliance has a bunch of modern features. Yes, it is overpriced compared to other products. But all great things have a big price. So, do this one.
14 of 15
Cuisinart CPT-142- Compact 4 slice toaster: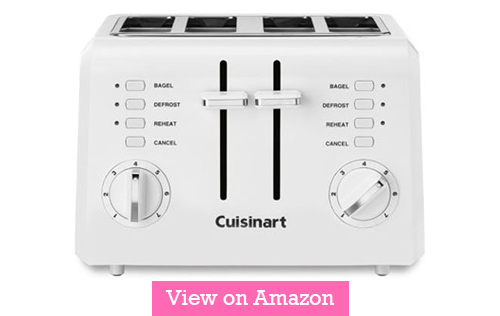 The CPT-142 is no way comparable to the Breville model. It does not have a stylish sleek look or the modern touches that people fancy in the kitchen nowadays. Nevertheless, the Cuisinart 4 slice toaster has is its own identity.
This simple looking device separates itself with some clever functions and also inherits one or two modern technology. This tool toasts a bagel and even defrost the frozen stuff. Also, it has a reheat button. These have become standard features in a toaster. But it's good to know, you can get them for such a price.
The safety features in this Cuisinart model is also highly appreciable. The appliance has a removable crumb tray. So, you can get them out easily without getting into any fire hazard. But more importantly, the high carriage makes the toasts pop out. No need to put your fingers in to get them out. That means no more scorched fingers for the sake of fresh toasts.
But the most exciting part about its control panel. The toaster has two control panels. It's by design as each panel controls the two slots at their side. Therefore, you can toast in two different styles at once. Perfect for situations where two people like their toasts differently. Some serious ingenuity from Cuisinart to save time for people in rush.
What stands out?
Double the fun: Get two types of toast with it as it has individual control panels for each slot.
Standard functions: Use it for toast or defrost the bread, even reheat them if you need to.
Be safe: Removable crumb tray keeps away any unwanted accidents from happening.
What lets it down?
Not consistent enough: You can't recall the toaster to be consistent when it comes to toasting. However, it isn't that bad.
Verdict:
If you're looking for an affordable 4 slice toaster to use day in day out then place your bet on this. You might not get the perfect consistency in your toast every time, but it's still far superior compared to the other stuff in the market.
15 of 15
Oster TSSTTRWF4S-SHP The 4 slice toaster paradise: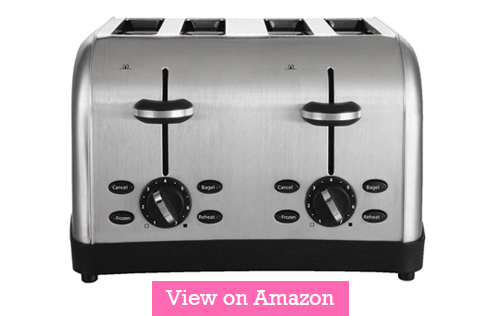 The last 4 slice toaster comes from Oster. The particular model in contention is the Oster TSSTTRWF4S-SHP. Like every modern tool, it got a complicated name which is long. But the real thing is quite straightforward to use.
This toaster as you can see from its name can toast 4 slices of bread or bagels at a time. No biggie for this as the slots are quite wide. Also, its auto-adjusting bread guide gives more flexibility with thicker pieces. Similar to the Cuisinart 4 slicer, this one also has two control panels. Therefore, with this model, you can also do two types of toasts at once.
The crumb tray also comes out similar to the Cuisinart model. It means you can easily clean the remaining crumbs now. It gets even better as the thing is dishwasher proof. So, you just put this inside the machine and let it do the cleaning for you.
However, the Oster model comes to the party when you get started toasting using it. There is so much variety it offers for toasts. Just adjust your toast shade between 1-7. If you want a lighter color then go lower and can get the darker shades going up. Just dial the knob to adjust the shade setting and let the rest be taken care of by it.
What stands out?
Get the right shade: Choose between 1 to 7 to get the perfect toast for breakfast.
Mixed toasts: Get two types of toast using the dual control panel functionality.
Easy cleaning: Clean the crumb tray with no time as it's dishwasher proof.
Wide slots: Get bread or bagel in the toaster without any hassle.
What lets it down?
Slots are short: With the thick pieces of bread, bagels you don't have to worry. But if you have longer bread to toast, then you might find it little difficult.
Verdict:
This toaster has all the basic features locked in tight. It can work with frozen foods and keep your toasts warm. And for this, you don't have to pay that much. Sounds like a really good deal if you ask me.
How it lets you down?
Obviously, anyone will compare the positives with the negatives to see which side weighs more. Therefore, I can go on and on about the positives of a toaster oven. However, I also need to acknowledge the other side of the page.
There is no doubt that the toaster oven is a great kitchen appliance but it also has its liability. And the big issue with such tool is the amount of food it can prepare at a time. If you want to prepare a feast for a small family then you can pull this off with your toaster oven. But preparing foods for a big crowd of 8-10 people isn't possible with this.
However, while buying such an appliance, you already know what you're getting into. So, I don't think anyone will have expectations of preparing a big Thanksgiving dinner using this. Therefore, it's not a deal breaker.
Things to Look for Before Buying the Best Toaster Oven
The best toaster oven reviews are up there to help you find the perfect kitchen tool. However, if you don't know what makes a toaster oven great then you might not be comfortable with making the choice. So, to help you make the decision, I've come with the ultimate buying guide. Here, you will learn your way through the nook and corners to get to the best oven toaster.
Size matters: Size of the appliance might not seem an important thing to consider but it is the aspect that comes biting back the most. Why? Because it's a two-edged sword. You might end up buying a toaster oven that takes more space than your liking in the kitchen. On the other hand, you might get your calculations wrong and got yourself the tool which won't have enough room to cook the dishes. So, think about the dishes you want to prepare using it. Meantime, make sure you have enough space to put the thing on your countertop.
Cooking type: If toast is all you want then check out the 4 slice toaster reviews. But if you don't want to limit your cooking then find the ultimate that can do all.
Heating range: Take note of the heat range of the toaster oven. You will be doing different things using it. So, you would love to have a variety of heat range at your disposal. This ain't the old days when temperature only meant low, medium and high. Now, you can set the exact temperature while cooking. So, find an oven that offers fine tuning of temperature that goes as high as 500 degrees or more to hit the jackpot.
Preset functions: Such appliances today come with a lot of preset functions. In past, you might have to choose a certain temperature intuitively depending on the type of cooking. Those days are over, as today's toaster ovens have specific preset cooking settings for specific needs. You can bake, broil, reheat, toast and do a lot of other stuff just pressing a single button. You don't need to tweak the temperature anymore because the device will that for you.
Easy to control: The more button on the display, the more you get to play with your toaster oven. I won't argue with that fact. However, sometimes it can be a curse as you might get all messed up with the buttons. So, do some research on your own before picking any particular model. Find out if it's easy to manage with all the buttons on there or not. Because you don't want to check out the manual every single time to figure out how the machine works.
Get Alert: Always look out for features like auto shut off and longer timer in your toaster oven. You don't want to be always checking out your dish to see if it's going ok or not. You just want the machine to notify you when it's done with an audible beep. So, you can take your food out on time without any disaster. However, for some reason, if you don't hear the timer going off or you accidentally leave the toaster oven on going out, the auto-shutdown feature can come to your rescue.
Also Read: Safety features you should be aware
Extra stuff: Usually toaster oven on any budget come with their own crumb pan and baking rack. It's quite standard. Still, getting as much extra stuff like pans, trays can be a good deal. Obviously, the higher end models will come with more gears than the lower end models.
Easy cleaning: Like your regular ovens, the toaster oven also requires a good cleaning. So, you need to take out the racks, trays after doing some spilling on it. The best devices have accessories that come right out of it without any struggle. Many models have racks and trays that are dishwasher proof to make the process much easier.
Final say
Whether its time to prepare breakfast, snacks or your dinner, a toaster oven is all you need. Don't bother to turn on the electricity sucking monstrous oven anymore.
You just need to pick the best appliance from the above toaster oven reviews. And I guarantee, you will forget about the regular oven in your kitchen.
Don't believe my words? Give it a try and then come back later to thank me.
In case if you have any question feel free to visit the FAQ section.
You can find more info about toaster ovens on Rookie Kitchen website.