How do you feel when you perfectly prepared the ribs of meat but need to keep the slab of beef in a smoker number of hours? Fortunately, in this modern era of life, we have something named electric pressure cookers can be tremendously beneficial in your day-to-day life.
Electric pressure cookers are rapidly replacing single-function facilities like rice cookers and crockpots for having their capability to make a meal in a super-fast way with little scurry. As these types of electric pressure cookers are multi-functional, they can do a lot of tasks. They can do different types of cooking like slow cook, fry, steam, make cake/egg, make yoghurt/ porridge, and some can even do air-fry.
With safety, electric pressure cookers have made it easier to cook compared to similar traditional pressure cookers. For having popularity and multiple functions, they are named as "instant pot". Furthermore, they have the ability to built-in pressure release valve. You can lock the pot with locking lids. These flexible and user-friendly products have smart auto-shutoff sensors to cook your food perfectly within a few minutes.
Basic Instant pot pressure cooker feature
Instant Pot pressure cookers are versatile kitchen appliances that offer a wide range of features to make cooking easier and more efficient. Here are some of the key features of Instant Pot pressure cookers:
Pressure cooking: Instant Pot pressure cookers use high-pressure steam to cook food quickly and evenly. This feature is ideal for cooking tough cuts of meat, beans, grains, and other foods that would typically take a long time to cook.
Slow cooking: Instant Pot pressure cookers also have a slow-cooking function that allows you to cook food on low heat for an extended period of time. This feature is perfect for making stews, soups, and other dishes that require a longer cooking time.
Sauteing: Many Instant Pot models have a saute function that allows you to brown meat or vegetables before pressure cooking. This feature is especially useful for one-pot meals that require multiple cooking methods.
Steaming: Instant Pot pressure cookers can also be used for steaming vegetables, fish, and other foods. This feature is ideal for maintaining the texture and flavor of delicate foods that can be easily overcooked.
Rice cooking: Instant Pot pressure cookers have a dedicated rice-cooking function that allows you to cook perfect rice every time. This feature is useful for cooking a variety of grains, including quinoa, barley, and farro.
Yogurt making: Some Instant Pot models have a yogurt-making function that allows you to ferment milk and create your own yogurt. This feature is perfect for people who enjoy making their own yogurt at home.
Pressure release valve: Instant Pot pressure cookers have a pressure release valve that allows you to manually release pressure from the cooker. This feature is essential for safely opening the lid after pressure cooking.
Multiple safety features: Instant Pot pressure cookers have multiple safety features, including pressure and temperature sensors, safety valves, and automatic shut-off. These features ensure that the cooker operates safely and reduces the risk of accidents.
By utilizing these features, Instant Pot pressure cookers can help you cook a wide variety of meals quickly and easily, making them a valuable addition to any kitchen.
Which model of the instant pot is best?
Needless to say, to find out Instant Pot Best Programmable Electric Pressure Cookers for Apartments is really a tough job. But after a lot of research and according to the customers' satisfaction, we've listed the top 5 Instant Pot for your daily necessities.
01 of 06
Instant Pot Duo Plus 9-In-1 – Best Programmable Electric Pressure Cookers for Kitchen
The Instant Pot Duo Plus 9-in-1 is one of the latest models which has some exciting features. It comes with an upgraded version and extra functions. It is also one of the best-selling products on Amazon.
It has nine functions in a single pot: pressure cooker, slow cooker, rice cooker, steamer, sauté, yoghurt maker, warmer, cake or egg cooker, and sterilizer.
It also has three new incredible cooking programs to get the perfect recipe from the cooker. The first one is egg program.
You can cook your egg in just a few minutes, in the variety of modes to make it soft, medium or hard-boiled. The second one is the cake program. You can prepare perfectly soft moist cakes in just a few minutes, in the variety of modes to make it lighter, denser or New York-style cheesecake. And the third one is sterilized program. The pot has the ability to pasteurize the dairy product in low modes; sterilize utensils or cane acidic fruits and vegetables in standard or higher modes based on your requirements.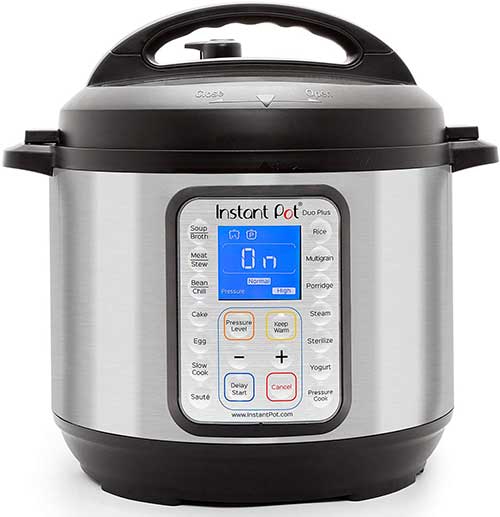 Features:
Upgraded version with the advanced microprocessor and three smart programs
High-grade stainless-steel pot with multiple ply bottom, lid, steam rack
Easy to clean and can safely wash with dishwasher
Lid supporter is fit for both left and right-handed users
Multiple changeable smart programs built-in
A blue colour, user-friendly, large-size LCD display
Pros
Powerful and simple to use, almost 70% quicker
Easier and safer to clean with dishwasher
User-friendly program to use easily
The long power cord to let you go around your kitchen without having any problem
Made with additional safety features and certified by UL
Cons
Food's tiny part may be stuck to the inner pot
May get confused with too many functions
The rubber sealing gasket may keep some smells even after washing multiple times
No cover feature may create some problems.
Why will you like it for your Kitchen
It has advanced control paned that is easy to read LCD screen. Another reason to buy it that it has adjustable and user-friendly programs and multiple buttons to cook your foods efficiently by adjusting pressure level and delaying start time.
Verdict
If you are looking for a pressure cooker in your busy home cook, then these 9-in-1 multiple usage programmable pressure cookers can be a convenient option for you.
02 of 06
Instant Pot Duo 7 -In-1 – Best Electric Pressure Cooker for kitchens
The Instant Pot Duo 7 -In-1 is an excellent option for pressure cooker beginners. You can cook delicious food even when you are in a hurry to work late. This multi-functional instant pot can help you to cook easily and quickly your wholesome meals. It can cook your juicy and tasty pulled pork or meat for less than one hour.
It is all in one pressure cooker with seven functions: pressure cooker, rice cooker, slow cooker, sauté/sear pot, steamer, yoghurt maker and warmer. It will decrease your cooking time by up to 75%.
It has two modes to cook your food perfectly based on your needs: high mode and low mode. The high mode will cook your meals within in less time when you are short of time, and the low mode will cook your meals appropriately by preventing overcooking delicate ingredients. It also has 14 built-in smart programs and multiple safety features to help you by becoming your amazing partners in the kitchen.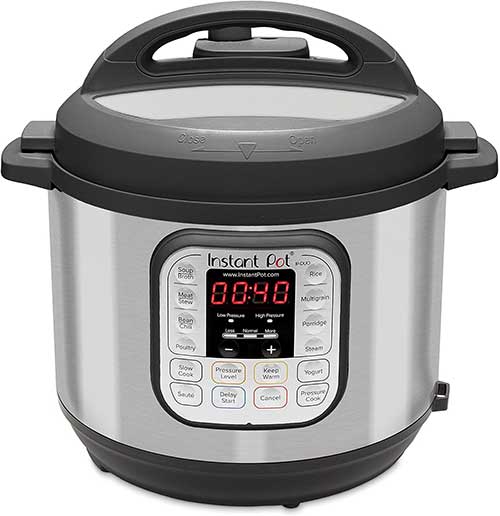 Features:
Seven functions in a single pot with numbers of smart programs
Adjustable time delays cooking up to 24-hours for convenience
Controllable soft-touch and smart LED screen to makes operation easier
Made with the latest embedded microprocessor that can monitor the pressure and temperature level
High intensified and smart cooking program to work efficiently for optimal effect
Pros
Multipurpose uses for having seven functions
Slow cooking feature to get the best results for recipes
Save time up to 75% with fantastic function
Affordable price with premium quality
Very easy to clean away food particles and waste
Cons
Unsuitable for canning
there is a bit of a learning curve
Sometimes lid can be hard to clean
Why will you like it for your Kitchen
These instant pots are available at a very competitive price without compromising its quality or decreasing any main functions. They can cook your foods easily and quickly than traditional low-priced pressure cookers. They are also super safe to use as UL and ULC certify them.
Verdict
If you are looking for a pressure cooker that has many skills, intuitive controls, non-adhesive inner pot and risk-free from dishwasher equipment, then we honestly recommend you to consider these models.
03 of 06
Instant Pot Ultra 10-In-1 – Best MultiCookers for home chefs
Instant Pot Ultra 10-In-1 is a little expensive because of having awesome features and excellent performance. If you can spend a little bit more than regular pressure cookers, then these instant pressure cookers can satisfy you in every way with its additional features. They have upgraded digital control panel with large LCD. These customizable electric pressure cookers have almost all the functions that are available others pressure cookers.
One of the most convenient things about these products is that you can adjust pressure, temperature and altitude settings. With smart programming and amazing features, you can delay the cooking and increase/decrease your cooking time without sacrificing the meal's taste.
You can steam your meals with instant these pressure cookers at low, normal or high for 0 minutes up to 4 hours. The saute' function of these pressure cooker allows you to cook low, medium or high temperature. There are other so many customizable and user-friendly functions to help you become the best home chef.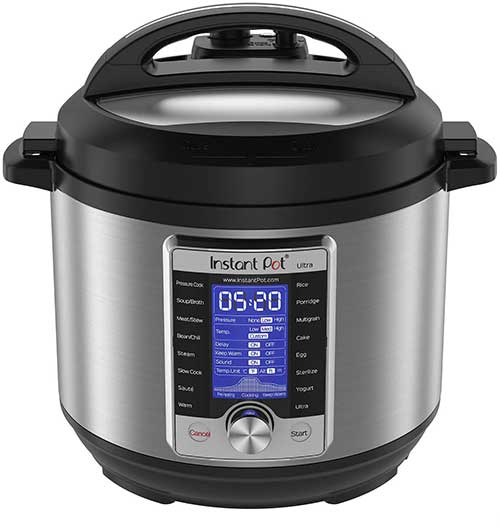 Features
10 in 1 Multi-cooker to cook different types of recipes in a single pot
Customizable features and smart programs to adjust cooking pressure, temperature and other things
Easy to understand LCD's instruction
The machine will remember all the settings that you have used before, including time, pressure/temperature
Contains both pressure and temperature for more accurate readings
The inner pot is made with high-quality stainless steel with a 3-ply base
Pros
Easy to use and clean
Multiple uses
Large blue LCD
Excellent management system to operate efficiently
Easy to change the pressure of cooking
Safe and user friendly to any kitchen
Cons
The dial button may not as extraordinary as expected
Programming instructions are not adequately clear
Lacks few essential features like the Flavor Infusion technology
Why will you like it for your Kitchen
These pressure cookers will give a lot of flexibility and versatility for having multiple features and smart programs. If you always want to use the latest technology, these instant pots can give the touch of advanced technology with its new functions. Finally, these instant pots are also great for new users as they are safer and user friendly with cool additional features.
Verdict
These instant pots are well built and amazing functions to do your jobs well. If you can spend a little bit to have the best quality, then we certainly recommend them.
04 of 06
Instant Pot Smart Wifi — Electric Pressure Cooker for small kitchens
Instant Pot Smart Wifi is the only pot that has the ability to connect with Wifi. You can control and monitor this multi-use programmable pressure cooker with your smartphone. If you are used to with smart gadgets or have a smart house, then this instant pot can be a great addition to your kitchen. It has multiple feature and functions to make your cooking job easy and effortless.
It also has 13 smart programs and other adjustable settings. You can connect the instant pot with an instant pot app through wifi to cook your meals from virtually anywhere. Once you cook one recipe, you don't have to give full instruction next time rather than you have just to click one time as it has customized settings. It has also pre-set 750 recipes that you can go over via mobile app. Though you have to pay more to have this instant pot, you're also getting some additional benefits to compare to other instant pots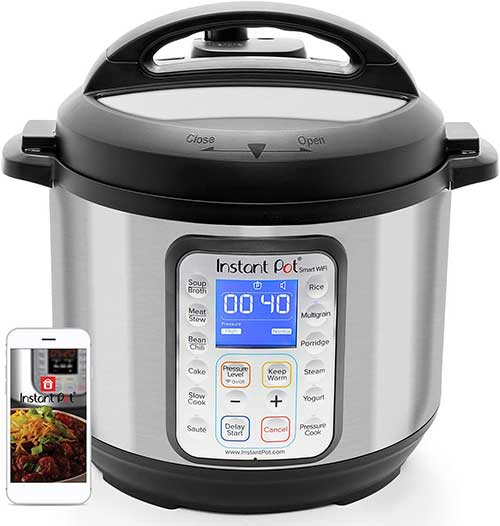 Features:
Cook fast and easily with numerous appliances in one
13 one-touch Smart Programs to make your recipes tastier and more delicious
Control and monitor your recipe with the app through Wifi
Upgraded unlimited multi-use cooker with all the features and functions
Stainless steel steam rack with handles to manage while cooking efficiently
More than 10 advanced built-in safety features to ensure safety while cooking
Contains stainless steels in inner pot for more durability
Pros
Generates stable outcomes
Exquisite and long-lasting industrial design
Made with advanced technology
Easy to use and clean
More attractive with the LCD panel than the other models
Has lots of flexibility to cook different types of meals
Cons
Expensive than regular instant pots
Lid not fully plastic-covered
Takes minimum time to get used to
Why will you like it for your Kitchen
These instant pots hardly make any noise and leak any steam. It also retains vitamins and other nutrition properties and cooks without warming exterior part. It also comes with a variety of temperature level settings to cook your food at the desired temperature. It also has an amazing built-in microprocessor design which will save your energy compared to other pressure cookers.
Verdict
If you have no limited budget or want to spend more and prefers to use advanced technology, then these instant pots can be one of the most excellent options for you.
05 of 06
Instant Pot Max – Electric Pressure Cooker Review
The Instant Pot Max is the latest Ip model that has almost all features and functions. You can cook anything by using this smart program that has the newest 3rd generation system. The instant pot has an amazing and elegant design to catch your eyes. It also has an awesome LED touchscreen that will make very simple to understand and use the cooker. These pressure cookers can reach up to 15 PSI with the most significant update.
With these pressure cookers, you can cook faster and do home pressure canning. The large size touch screen enables programs to perform consistently. You can also customize timing, temperature and pressure level based on your requirements.
It also has nutria-boost technology that works through boiling motion and also adds nutritious properties in food. The heat progression indicator will notify you on the LCD screen when it's heating. It also has excellent finished cooking results are similar to other top-quality instant pots. With this fantastic instant pot, you can cook a lot of diverse recipes without being time-consuming and complicated.
Features:
Touch screen display with updated info regarding the unit
Automated program to cook efficiently
Removable cable to have more storage space
Nutri-boost feature tries to shift the food immediately to match the movements of the boiling water in the pot
Upgraded sound alerts let you mute the sound for not cause any disturbance to anyone
The capability to automatically control the pressure release valves
Pros
Upgraded LCD Touchscreen
Allows the Periodic release of pressure from the cooker
Latest sous vide and canning functions
Awesome looking of the bunch
Multiple features and functions with modern controls
Cons
Absence few primary preset cooking modes
A bit expensive
Available only in a single size
The Sous Vide feature is not fully accurate
Why will you like it for your Kitchen
This instant pot is giving you the highest quality and being user-friendly to cook your meals. With a digital touch panel, it has also automated various modes of the steam vent, which is a highly effective feature. Generally, it is an excellent high-tech device compared to other multi-functional cookers.
Verdict
If you are looking for some brand-new functions– particularly, canning and sous vide and wish to spend more for common multi-functionality, then this instant pot can be recommended.
06 of 06
Instant Pot Duo Evo Plus – Electric Pressure Cooker
Instant Pot Duo Evo Plus is one of the finest and latest pressure cookers which has everything. The instant pot comes with upgraded classic design and additional numerous recent features that will catch your eyes. It is one of the advanced multicookers that has lots of smart cooking options and a sous-vide function.
The quick-release switch of the instant pot is effortless to turn off without putting your hand in any contact with steam. The LCD is quite more comfortable to read and understand. It also has a central dial and one-touch button to operate efficiently without facing any problem. This instant pressure cooker is more powerful with 1200W compared to other similar instant pots. It provides the service of quicker heating, better boiling and instant pressurizing to pressure quicker.
You can easily lift the pot after cooking with the latest rubberized handles. Another convenient thing about this model is the inner pot that has the ability to go on the stovetop, which will save you from buying another equipment tool. It comes in two variant sizes: 6-quart and 8-quart model.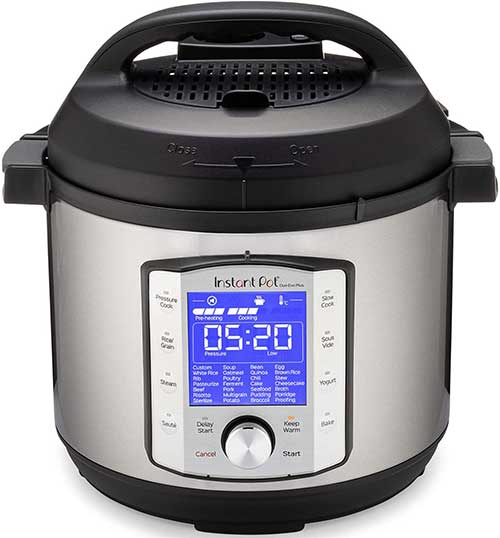 Features
Latest 1200w heating feature lessens preheating time
Requires less time for pressure release
48 customizable preset options for different types of meals
New rubberized handles to lift the pot easily after cooking
Nine smart cooking programs with more automatic settings
Has additional sealing ring and a steam rack with lengthy handles
New bake program that can cope up with dry heat environment as it doesn't require liquid at the bottom
Pros
Impressive LCD to see the cooking graph and preheating progress
Better inner pot and lid
Versatile to do dozens of things
Smart control panel to get notification
Easy to navigate and use
Temperature regulation works very efficiently
Cons
Sealing ring in lid sometimes picks up the cooking smells
Needs a steeper learning curve
The Saute function has few issues and may show an error code
Why will you like it for your Kitchen
This instant pot is developed by the recommendation of millions of instant pot fans around the world. This great invention makes great meals, and you will be astonished how fast it cooks everything. It also has a lot of flexibility to cook different types of meals.
Verdict
If you are looking for the latest and most powerful instant pot, then this instant pot can be recommended.
What size instant pot to buy
| | | | |
| --- | --- | --- | --- |
| 3-QT | 6-QT | 8-QT | 10-QT |
| Small size | Moderate height | A quite large size | Extra large size |
| Perfect for frozen meals or rice or vegetables | Perfect for dishes with a large quantity | Perfect for weekly meal preparation | Perfect for large batches meal preparation or freezing |
| 3-quart is suitable for side dishes or if you only cook for a single person or maximum of two-person | 6-quart is suitable for a minimum of two persons and a maximum of six persons based on eating capability | 8-quart is suitable for a minimum of six persons and also for large families, small parties and gatherings. | 10-quart is suitable when cooking for crowd or family gatherings than 8-quart |
How To Clean Your Instant Pot?
Lid: Make sure to cool down your instant pot naturally, so that you can generally clean the lid with condensation water only. Before cleaning the lid, you should remove the ring and the anti-block shield to clean the lid deeply. One trick you can follow that will prevent the odours stuck in the pot is upside down on the pot until the pot thoroughly dried or at least for the next use.
Heating Element: The heating element is crucial for cooking. Make sure the cooker base is dehydrated before placing in the dishwasher. Clean the outside area of cooker base with moist fabric cloth. You can also use the fabric to clean the inside of the cooker slightly. But make sure to keep the cooker dry. Use a simple wet fabric cloth or old toothbrush if you need to clean the area around the lip of the cooker.
Bowl: The bowl or inner pot is made of sturdy, food compatible stainless steel and fully dishwasher safe. You can clean the bowl by using hand washing or the dishwasher to brings back the original shine. You can also use periodically 1 cup of white vinegar for deep cleaning purposes. If you see any kinds of discolouration, these may be because of minerals or salt in the food. You can easily remove it by using an attrition resistant stainless-steel cleaner that will remove the marks as well as provide its original brightness.
Sealing Ring: A top quality and heat-resistant siliconeS are used to make the sealing ring. You can clean it by using a light hand wash or dishwasher. Make sure to dry the ring before inserting back into the lid fully. Try to place the sealing ring correctly in the lid after every wash so that you don't have to face any problem before you start cooking. The sealing ring is an essential part of the cooker. If you see any marks cracking or damage, it is better to replace the sealing ring to prevent your pressure from being harmed.
Anti-block Shield: The anti-block shield which is situated under the lid should be removed and cleaned after every use. It is better to use warm, soapy water to wash the shield. After washing the shield, wipe the water with soft fabric cloth. After cleaning the anti-block shield properly, reattach it and tighten it by hand. You may need a little effort to pop out the shield properly.
How to Choose the Best Instant Pot for your kitchen – The Ultimate Buying Guide
Instant pots are special types of electric pressure cooker with enhanced features and multiple settings to make meals tastier and more delicious. The best instant pots will take less time to cook your meals. You need to consider a few things before buying the best suitable instant pot for you.
Size: Instant pots come in a variety of sizes like 3 Quart, 6 Quart, 8 Quart and 10 Quart. The 6 quart is the most popular size, and it is suitable for feeding up to 6 people. If you are alone or only your partner, then you can go for 3 Quart size. The 8- or 10-Quart size mainly for large families and crowd functions.
Models: Instant pots also come in a variety of models like Smart, Duo, Duo Plus, Max, Viva, Lux, Ultra, and Nova Plus. They have up to 16 cooking programs. If you want to try different types of dishes with a single instant pot, then you can buy the specific model that has dozens of cooking programs.
Parts and Accessories: Different instant pots have different accessories. If you are in confusion which types of the instant pot to buy, then you should first consider the kind of cooking you're doing in your instant pot. You can buy additional accessories like extra sealing rings, egg trivets, springform pans which depend on your needs and the type of dishes you will cook.
Safety: All the instant pots are safe to use. But there are a variety of safety mechanisms among them. Most of the instant pots have at least ten safety mechanisms to ensure your safety. If you prefer to have more safety, then you can go for those instant pots that have more safety mechanisms.
Cleaning Process: Most of the instant pots are straightforward to clean with dish soap and warm water. The internal accessories inside the pot like the lid, the sealing ring should be cleaned regularly and properly to run the cooking process efficiently. You can use lemon juice and a little vinegar to clean any odor from the interior accessories deeply.
Final Words
Instant pots are mainly made to help you in your kitchen as a home chef. We have chosen only the top-rated instant pots that have thousands of positive reviews. There are other several different models available in the market. But we have only chosen those instant pots that can be suitable for most of the users.
These instant pots are the best choices for you to cook your food quickly and easily. You can choose any of them based on your requirements, budget and preference. You may also choose other instant pots if you like them. But we can assure you that these are the best instant pots that you are looking for a long time. So what are you waiting for? Don't overthink. Just go and click the link and enjoy the instant pot best programmable electric pressure cooker for your apartments.