Food is happiness. Yes it is definitely true for some of us. But to me sharing is happiness. A good dinner with family is much more enjoyable than being alone in a fancy restaurant. What if you can make tasty restaurant like foods in your home and enjoy it with your family. In this article we will talk about the best air fryers which can make best food for your whole family.
Air fryers are comparatively healthy alternative to deep fryers. It provide foods that taste like deep fried foods but have literally lower fats and calories. An air fryer is basically a countertop convection oven used for frying foods with a little or no oil. With rapid air technology hot air is circulated through the cooking chamber to cook your desired food. A nice crispy layer on the surface and a little juicy feel in the middle, this combination makes food even tastier to eat.
An air fryer can cook not only fried foods. Frozen foods, meats, chicken, beef, turkey, fish, grills, french-fries, chips, baked foods even dishes like pizza and cakes can be cooked in air fryers. So, you won't need to worry about anything. Just a good air fryer can do the job for your other kitchen appliances.
There are so many air fryers in the market that you will get confused to buy one. We will try to suggest you about which type of air fryer is good for your use. Our team has picked different air fryers and used them in our testing kitchen to give you a competitive review. There are many factors to keep in mind before choosing the perfect air fryer for your large family. First of all, we will shortly discuss about those key factors.
1. Size:
You might listen to this phrase "size doesn't matter". Well, size might not matter for other things but for air fryers size do really matters. Air fryer's capacity is measured in quart or litre. For 2 or 3 people below 5-quart size is preferable. If you use these air fryers for a large family you might need to cook in multiple batches which is not preferable. If you do not want to cook in multiple batches then our suggestion will be to buy an air fryer which size is at least more than 5 quart. For 5-6 people this size will be enough. Some air fryer's size is around 20 quart. These are perfect for a large size family.
2. Type :
Type of air fryer is another thing to be considered before buying. Air fryers can be of many types like basket type, paddle type, combo type, oven type and etc. Among these Countertop convection oven type air fryers are our choice for a large family. Oven type air fryers have large capacity than other type. And multiple racks allow to cook different items at the same time.
3. Function:
When buying an air fryer you also should look at the functions offered by an air fryer. For a larger family multifunctional air fryers are more preferable. With a multi-functioned air fryer you will have the opportunity to try different types of recipes like roasting a turkey or baking a pie. Some fryers offer not only frying but also baking, grilling, roasting and other types of cooking. So you will definitely want to choose a fryer which offers you versatility in cooking option.
4. Time:
Cooking time is not an ignorable factor when buying an air fryer. You will definitely want to choose a fryer which can cook faster. Though fast cooking time means increase of price, our suggestion will be to buy a fryer which provide a decent time of cooking.
5. Operating method:
Most of us don't consider this point and get troubled when using the fryer. Some fryers are automatic. For the rest of them, you will need to stir or flip the food when cooking. You have to choose according to your need. If you do not have the time to flip or stir the food, then you should choose the ones having automatic shaking or spinning feature. Some of the fryers doesn't even need stirring or flipping. You can also choose them. Another thing to consider is cleaning the fryer after cooking. Our suggestion is to select a fryer which is easy to clean.
So, considering all those factors, our testing team has selected 7 best air fryers for using in a large family. So, let's roll to list without further interruptions.
01 of 07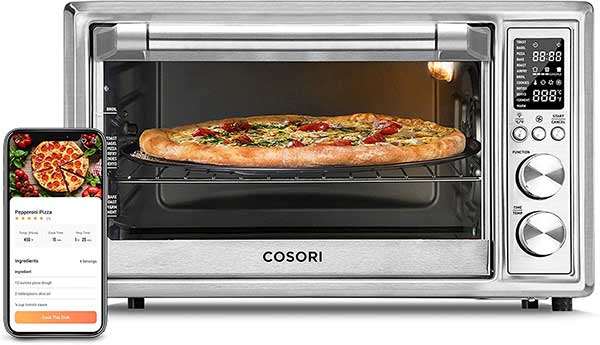 Technical Specifications
Capacity: 32 qt.
Material: Stainless Steel
Finish Type: Polished
Wattage: 1800 watts
Recommended Uses for Product: Air Fry, Roast, Bake, Cookies, Pizza, Bagel, Toast
Is Dishwasher Safe: Yes
Has Nonstick Coating: Yes
We can say that this smart air fryer toaster oven is one of our best picks. Famous brand Cosori brought this awesome oven-type combo air fryer to the market. The smart-looking air fryer oven comes in two different colors: silver and black.
The capacity of this fryer is 32 quart/ 30L. This giant size will allow you to cook almost anything you want. That's exactly what a large family needs. You can cook an entire rotisserie chicken to 13-inch pizza in this large cooking chamber.
The dimension of this product is 20.1 x 16.5 x 12.1 inches. And it weighs almost 27.3 pounds. So it's a big and heavy machine as you can see. It has power supply of 1800watt and its temperature stays between 80°F to 450°F.
Do you know what is the most amazing thing about this fryer? It has a smart control feature. You can connect your oven to your smartphone and control the oven from your smartphone. You can control the temperature, time, convection fan, oven light, select recipes, monitor cooking and you will get notifications on your phones too.
To use this Smart VeSync APP Control you have to connect your oven to a Wi-Fi network. You will get almost 100 recipes in VeSync APP.
Voice control feature is also available. You can control your oven with Google Assistant or Alexa. Isn't this amazing?
This air fryer has 2 ways of control system. One is VeSync App another is manual control. There is a LED screen and some buttons and setting knobs to manually operate the air fryer oven. You can select the cooking presets in the LED screen.
This air fryer oven has 5 heating elements and convection fan which ensures faster cooking. The interior of the machine is non-sticky which means cleaning the fryer will be hassle-free.
As this is a 12 in 1 air fryer that means it has 12 different functions. There are 11 preset functions and 1 keep warm function.Those preset functions are rotisserie, air fry, roast, toast, bake, broil, pizza, bagel, cookies, dehydrate and ferment.
You will get some accessories along with the fryer. A frying basket, rotisserie fork set, rotisserie handle, food tray, crumb tray, wire rack is provided with the package.
So, this is obviously a great option for them who are looking for a very large air fryer.
Pros
Voice controlling
Better flavor
Easy to clean
Versatile preset options
Great combo
Cons
No spare basket or racks
Few lacking in smart feature
Fewer tray slots
02 of 07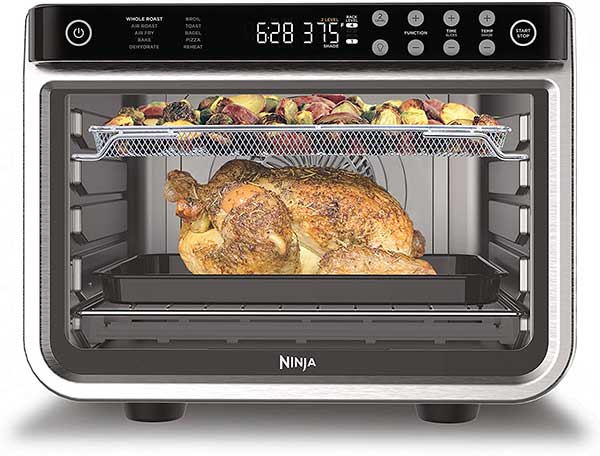 Technical Specifications
Material: Stainless Steel
Wattage: 1800 watts
Finish Type: Stainless Steel, Finish
Enamel Coating: Yes
Capacity: 21 Liters
Recipes: 15-recipe Inspiration Guide
Is Dishwasher Safe: Yes
This is our next pick for family size fryers. Ninja DT201 Foodi has a very large capacity. It can fit a 5 pound chicken and a vegetable tray at the same time. You can even cook 2 whole 12 inch pizza in two racks. And a maximum weight of 12 pound turkey can also be cooked in this fryer. This fryer has multiple levels for cooking at the same time. So, for even a very large family, this air fryer is perfect.
The dimension of DT201 model is 17.09 x 20.22 x 13.34 inches. And weight is 33.6 pounds. The fryer needs power supply of 1800watt and the maximum temperature can rise up to 450°F.
This fryer oven has True Surround Convection technology which means high velocity fan, rear heat source and surrounded air flow. It has multiple heating elements: 2 on the top, 3 on the bottom and 1 on the back. So, no rotating is needed. And 360° whole roasting is perfectly possible.
This technology ensures 30% fast cooking than traditional convection oven. Not only fast cooking, it also produces 30% more crispy food than other traditional ovens. In term of baking result it's a master of other fryer ovens. It has 50% better baking result than other countertop ovens. This air fryer oven has another amazing technology which is digital display handle.
This oven air fryer has 10 different functions. These functions are: whole roast, broil, reheat, air fry, roast, dehydrate, bagel, pizza, air roast and bake. So don't you think it's an all in one appliance to must have in kitchen?
You will get 6 accessories with the fryer. Sheet pans, wire rack, roast and crumb tray and air fry basket is provided with the box. Oh and a guide book with 15 recipes as well.
Pros
Fast cooking
Crispy Food
Better baking result
Digital display handle
Enamel coating
True surround convection
360° whole roast
Cons
A bit expensive than others
Button labels wear off
Loud sound
03 of 07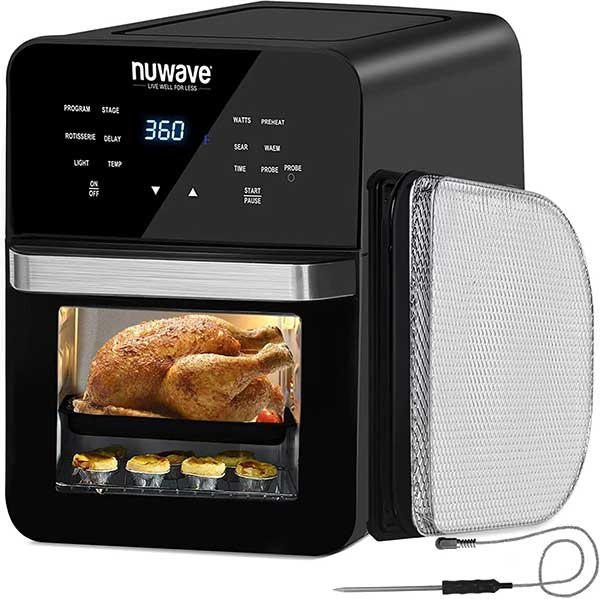 Technical Specifications
Capacity: 15.5 qt.
Special Feature: Programmable
Material: Stainless Steel
Recommended Uses for Product: Roast, Reheat, Broil, Dehydrate, Bake, Defrost,
Control Method: Touch
Min. Temperature Setting: 100°F
Max. Temperature Setting: 400°F
Is Dishwasher Safe: Yes
With 15.5 Qt. X-large Family size, the NUWAVE Brio wins the heart of many users. You can roast, broil, reheat, defrost, and dehydrate for a group of people without trouble. Its multi-level design takes the hassle out of cooking different foods at the same time.
This air fryer is a uniquely designed cooking chamber that ensures that super-heated air is circulated all around your food. It cooks from all sides, and the result is crispy and delicious on the outside and juicy on the inside.
An integrated temperature probe is another worth-mentioning feature of this air fryer. It allows you to control the cooking cycle based on your food's internal temperature. Adjustable in precise 1 °F increments, the probe eliminates guesswork by turning off the Brio when the set internal temperature is reached. Thus, you will always get meat, poultry, and fish perfectly done.
You will love to know that; it features a carryover cooking mode. This mode prevents overcooked meat or fish while you are resting. The cooked food will be perfect every time, never overcooked or undercooked.
The air fryer cooks healthy meals up to 70% faster compared to conventional ovens. Its wire mesh racks let the superheated air flow all around your food, cooking quickly. Simultaneously, it lets excess fat and oil drip out of your food and into the drip tray.
The durability of the air fryer is confirmed by its all-metal interior. Moreover, it is easy to clean. The front door can be removed by hand to access the cooking chamber easily. Mesh tray, non-stick grill plate, rotisserie parts, and mesh racks are removable for effortless learning. More importantly, they are dishwasher-safe.
NuWave Brio is a perfect blend of versatility and capacity. It is an ideal choice for busy households on the go! The cooking time is really quick and faster than other air fryers.
Pros
Intuitive operation process
Versatile and even cooking
Unique multi-level design
Built-in temperature probe
Cooks up to 70% faster
Cons
The digital readout fails over time
Odd slope in the pan area
04 of 07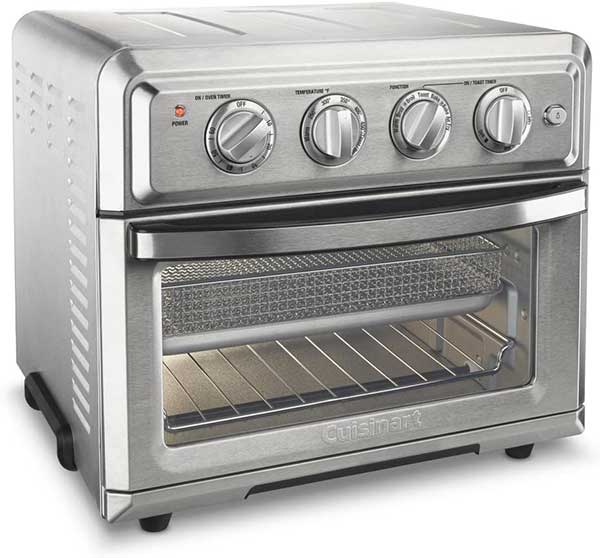 Technical Specifications
Material: Stainless Steel
Finish Type: Polished
Wattage: 1800 watts
Temperature Range: Warm to
Cooking Timer: Up to 60 minutes
Capacity: 3 lbs.
Is Dishwasher Safe: Yes
Our next pick for 7 best air fryers is Cuisinart brand's TOA-60 Convection Toaster Oven Air fryer. It's a classic looking air fryer suitable for any large family.
It comes with 4 different colors and has a pretty big size. The capacity of this fryer is quite enough for a large family. It can hold 12 inch pizza to almost 4 pounds of chicken. Its actual capacity is 0.6 cubic feet which means almost 18 quart.
This machine is actually a toaster oven which has integrated air fryer facility. So, it can do multiple work. Like toasting, baking, roasting, frying all in the same oven compartment. As you know the toaster ovens are countertop type oven, that means the fryer's hot air will circulate from the top and it will ensure even better cooking.
The air fryer is made of stainless steel and weight around 21 pounds. The dimension of this air fryer is 15.50 x 16.00 x 14.00 inches. The 1800watt machine has 7 different features which is pretty impressive. The features are air frying, toasting, baking, broiling, warming, convection baking and broiling.
This air fryer has auto turnoff feature which works with adjustable thermostat technology.
This machine come with some accessories too. A baking pan, air fryer basket and oven racks are provided with this fryer.
This toaster oven fryer doesn't have any screen feature. It has four adjustable buttons or knobs on the top-front of the fryer. A see through door is just below those buttons. You can cook and watch over the progress through that transparent door.
The manufacturer of this product says 'Savor the Good Life'. With less oil, these fryer is really doing great to help people achieving a healthier and good life.
Pros
Classic design
Energy efficient
Versatile
Crispy food
Fast and efficient cooking
Cons
Plastic knobs
Lower build quality
Temperature issue
05 of 07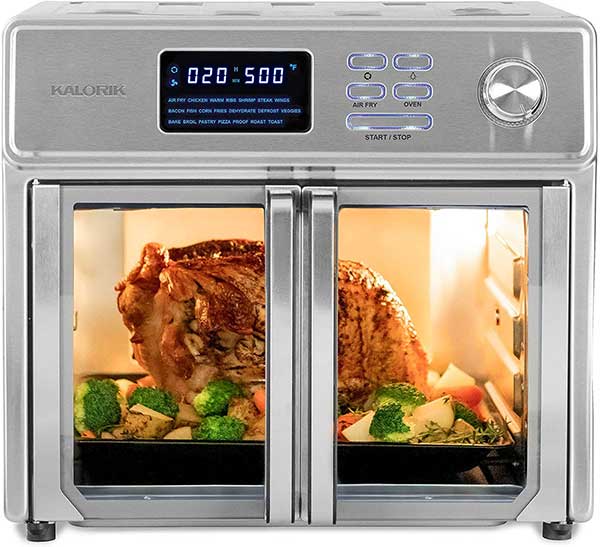 Technical Specifications
Material: Stainless Steel
Finish Type: Stainless Steel
Wattage: 1700 watts
Capacity: 26 qt.
Item Weight: 17.2 lbs.
Is Dishwasher Safe: Yes
Kalorik digital air fryer oven has got a place in our best air fryers list for its excellent performance. It's a unique designed air fryer with French type door. A large family will need a large size fryer. It has a capacity of 26 quart or in liter 24.61L which fulfills the demand of a large family.
It's a stainless steel made silver color air fryer oven. It has a dimension of 12.5 x 15.75 x 14 inches which is pretty compact for the size. The large cooking chamber allows to toast 9 slice of bread at a time and cook a whole chicken.
It has a power supply of 1700watt which is less than other fryer ovens of the list but it can cook on the highest temperature of 500° Fahrenheit.
The Turbo Maxx Technology makes it faster than other air fryer ovens by 25-30%. It also ensure the highly crispy result with the flavor of deep fried food.
This oven is a multifunctional fryer oven and can perform 10 different functions. This machine can fry, toast, grill, roast, broil, braise, bake, rotisserie, dehydrate and sear. Simply you can call it a 10 in 1 air fryer oven. The specialty of this oven is it has 21 preset modes to cook different recipes. So, you don't need any other cooking appliance to make these foods.
The digital air fryer oven has a LED panel on the top front and some buttons and knobs beside the panel to operate. Below those buttons a pair of transparent French door is set to monitor the cooking from outside. This French door system makes it easier to open or close the cooking chamber. The interior is non sticky and easy to clean after cooking. The whole machine's weight is 27.3 pounds which is pretty heavy.
A total of 9 accessories come inside the box with the oven. A rotisserie handle and spit; bacon, crumb and steak tray, rack handle, air rack, baking tray and air basket can help your cooking creativity to reach another level.
Pros
Very fast cooking
French door
Turbo Maxx Technology
21 presets mode
Easy to clean
Cons
Front door heating issue
Low build quality
Complain about customer service
06 of 07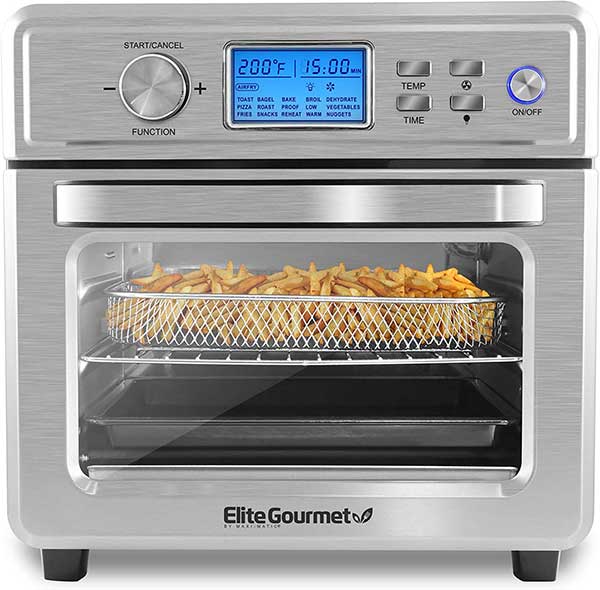 Technical Specifications
Special Feature: Programmable
Capacity: 21 liters
Material: Stainless Steel
Recommended Uses for Product: Roast, Broil, Bake, Reheat, Dehydrate
Control Method: Touch
Is Dishwasher Safe: Yes
Has Nonstick Coating: Yes
Our next pick for 7 best air fryers for large family list is Elite Gourmet's Maxi-Matic Digital Programmable Fryer Oven. This fryer oven comes in two different sizes 10.5 quart and 22 quart. In this review we will only talk about 22 quart variant as this version fulfills our criteria.
The 22 quart/ 21L size capacity is ideal for large family and parties. The stainless steel made oven is silver color and looks pretty similar to Cuisinart's model. The dimension is 15.75 x 13.97 x 14.76 inches which is pretty big. Its weight is around 23.6 pounds.
This fryer oven has 15 preset functions to make your cooking easier. You can grill, bake, fry, roast, toast in this multipurpose oven.
This fryer has programmable temperature and timer options. The temperature can rise from 200 to 450 degree Fahrenheit. So, you can be ensured about crispiness of the food. The auto shut off technology work after 60 minutes of every cooking cycle.
This air fryer oven is powered at 1700watt which is pretty much enough!The dishwasher safe feature and nonstick coating makes this an easy cleanable gadget.
It has a LED panel, buttons, knobs and a transparent door to see through!The accessories you will get are a removable tray, a fry basket, a wire rack, a baking pan and a tray removable handle.
The Elite Gourmet Company confirms about its durability so they provide a 1 year customer support in USA.
Pros
Durable
Better build quality
Cooks evenly
Fast cooking
Easy to clean
Cons
Loud beeping noise
Confusing on/off button
Fan vibration
07 of 07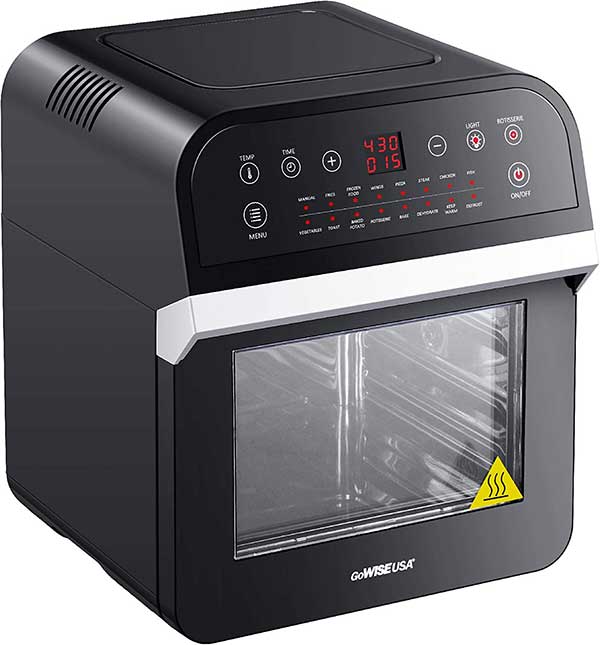 Technical Specifications
Capacity: 12.7 qt.
Special Feature: Programmable
Material: Stainless Steel, Plastic
Recommended Uses for Product: Roast, Dehydrate
Has Nonstick Coating: Yes
Wattage: 1600 watts
Output Wattage: 800 watts
Voltage: 120
If you are looking for an air fryer for family members of 5 or more, the GoWISE GW44800-O Electric Air Fryer is for you. This 12.5 qt. is listed as the best air fryer for family. It comes with a rotisserie spit kit, letting you do much more for your family and friends.
Although it is engineered for a large family, it is compactly designed to fit on your countertop. The air fryer has 3 rack levels, allowing you to prepare a family-sized meal easily. You can cook faster and crispier every time.
The integrated rotisserie helps you cook tenderloins, whole roasts, Kababs, and even a full chicken without hassle. Moreover, it includes a 600°F element. It keeps the interior temperature range from 90° – 400°. As a result, you can cook anything from air fry to dehydrate.
Controlling the air fryer is super easy. A touchscreen with 16 presets gives you full control over cooking time and temperature. It is actually fairly simple, and the different buttons give you the ease of fast, flexible settings. Thus, the food will never overcook or be undercooked. More importantly, the preset options eliminate guesswork. In addition, the conducted heat is extremely well, meaning it assists in faster cooking.
The air fryer is made of high-quality material. It has stainless steel interior, which ensures nonstick cooking. The interior mesh trays and the non-stick drip pan are removable for convenient cleaning. You need to scrub them quickly with a brush and soap, then toss them in the dish machine. Remember, thoroughly cleaning the air fryer will give you many years of service and leave a new look inside.
Overall, this unit is a perfect size for a family of 5 or more. A relatively straightforward instruction manual lets you operate it effortlessly. The look and performance are also outstanding.
Pros
No uneven heating
Multiple shelves and accessories
Rotisserie feature and rotating components
Removable mesh tray for easy cleaning
Digital interface
Cons
The top gets heated if you overfill it
The buttons wear out over time
So, we have just shared our experiences with these best air fryers in the market. Now it's your turn to choose the best one for you. Firstly set up your priorities of need and budget. Then go for any of these 7 air fryers if you have a large family. Good luck in advance for your journey towards healthier life.