If you need to store or preserve meat for a long time, then get a vacuum sealer. Vacuum sealers are popular for their ability to preserve food for a long time. Vacuum-sealed meat which is preserved in a freezer can last through years.
Meats kept in the freezer without vacuum sealing can lose their taste and freshness. But if you vacuum seal and freeze it, then it will remain fresh and tasty too.
How does this vacuum sealer work? A vacuum sealer sucks all the air inside a bag and seals the bag with heat. It's actually airtight heat sealing. For this, no bacteria or molds can grow on the food inside the sealed bags as there is no air. Thus, the longevity of the food is increased and kept fresh for a long time. The same thing applies to the meat.
Vacuum sealer is the savior for those who waste foods. You can either preserve the food leftovers or keep the raw food to cook later. Food wastage can be reduced significantly with a vacuum sealer. A vacuum sealer will save you both time, money, and work.
Vacuum sealers are available in the market in different types and different price ranges. So, it's difficult for anyone to find out which one is best for meats. But as you are here, you don't need to worry about that anymore. My friend, I will help you find the best vacuum sealer for meat.
#
Preview
Product
Price
01

FoodSaver V4400 2-in-1 Vacuum Sealer Machine

Automatic operation
Easy to use
Moisture detection
Consistent sealing

02

Weston Pro-2300 Commercial Grade Stainless Steel Vacuum Sealer (65-0201)

Powerful and heavy duty
Extra-large sealing bar
Transparent lid
No overheating

03

Avid Armor Vacuum Sealer Machine – A100

Commercial grade
Pulseimpulse setting
Cooling fan
Marinating and sealing canister

04

FoodSaver FM5200 2-in-1 Automatic Vacuum Sealer Machine

Express bag making
Open roll storage
Second heat sealing bar
Quick and efficient

05

NutriChef PKVS50STS Commercial Grade Vacuum Sealer Machine

Stain-resistant
Two food mode sealing
Digital control panel
Built-in Roll cutter

06

FoodSaver FM5860 Vacuum Sealer Machine

Easy to use
Retractable handheld sealer
Automatic dispense and rewind option
Marinating

07

Fresh World Commercial Vacuum Sealer

Noise-free
One-hand operation
Built-in cutter
Inflation setting

08

GERYON Vacuum Sealer

Starter kit
Sous vide companion
4 in 1 mode
Dry and moist mode

09

FoodSaver Vacuum Sealer GM710-000 GameSaver

Ready for field use
Consecutive sealing
Gaming gadget type design
Heavy-duty machine

10

Weston 65-0501-W Professional Advantage Vacuum Sealer

Versatile control
Quick and easy
Various bags compatibility
For continuous use
Things to consider before buying a vacuum sealer for meat
Power: The power of the machine is very important as it decides the suction result. More power means more powerful suction and powerful sealing. Meats needed to be sealed perfectly. If you want to store the meat for years then it must be airtight heat sealed. And with the powerful machine, you can do this job very quickly.
Capacity: The capacity of the machine is also another thing to consider. If you buy small machines that can't seal large-sized bags, then they won't come in handy for meat sealing. If you want to seal a large amount of meat, then you will need to focus on the length of the sealing bar.
Capability: How fast the machine works? Or is it suitable for continuous use? These questions should be strongly considered. If you want to use the sealer for your business, then it is normal that you will use this machine continuously for sealing meats. So, buy a machine that is suitable for heavy-duty.
Special feature: Some machine provides special features for special operations. Don't just waste money on such a feature that you won't need. Automatic sealing feature, automatic detection, marinating, automatic bag preparation, work progress monitoring, etc. feature will come in handy. So, decide which feature you actually need.
Machine category: You can vacuum seal meat with both chamber type and external type machines. For bulk or large business purposes, chamber type is good. And for normal usage and even for business purposes, commercial grade external type vacuum sealers are perfect.
Budget: For vacuum sealing meat perfectly, you will need a vacuum sealer with a decent budget. The cheap ones will not provide you the perfect result. The commercial-grade vacuum sealers will be perfect for buying. So, keep the budget for commercial-grade vacuum sealers.
So without further saying, let's go to the details review section of the best vacuum sealer for meat.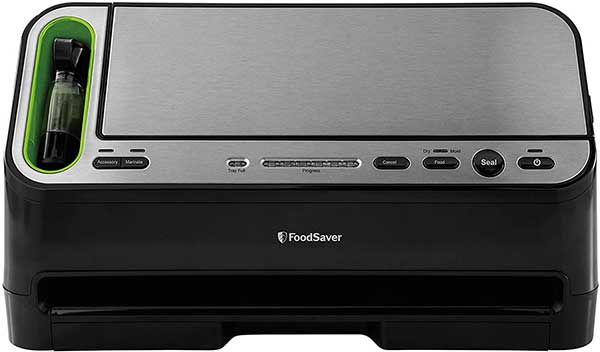 FoodSaver is a pioneer brand in making vacuum sealers. Like their all other products, V4400 is an ideal product that you can buy for saving meats. If you seal meat with FoodSaver vacuum sealer and preserve it in a freezer, then the meat can be stored for almost 3 years! Yes, it's true.
This 2 in 1 automatic vacuum sealer has automatic bag detection and sealing system. So just keep the bag in the vacuum chamber and it will automatically detect and seal the bag. The food sealed with this machine remains fresh and freezer burn-free.
FoodSaver V4400 is extremely easy to use. With 2 in 1 automatic feature and bag rolls cutter, your work will be hassle-free. This machine also has roll storage for bags. So you can have custom size bags as per your need.
Another awesome feature that I liked most is the auto moisture detection. Advance technology can detect the moisture of the food. Then it automatically changes its settings to moist mode sealing. So you can say that sealing liquid type food was never such easier before.
This sealing machine has a removable drip tray. So, when sealing moist foods, the drip tray will catch the drippings. For this reason, you will experience a clean operation. The drip tray is dishwasher safe and easy to clean. The machine has a LED light, so you can check the sealing process easily.
V4400 model will provide you very consistent results for vacuuming and sealing. The product is perfectly durable so you can use it for a long time.
FoodSaver machines are considered very safe. V4400 model is certified by NRTLs. So, you can use this machine without any doubt.
FoodSaver V4400 comes with a starter kit. This machine is compatible with 8″ and 11″ rolls. With the additional accessories, you can seal jars and wine bottles. This machine is pretty compact as it weighs around 10 pounds.
Pros
Auto bag detection
Easy to use
Roll storage
Automatic moisture detection
Consistent and durable
Safety certified
Cons
Can't double seal
Waste bags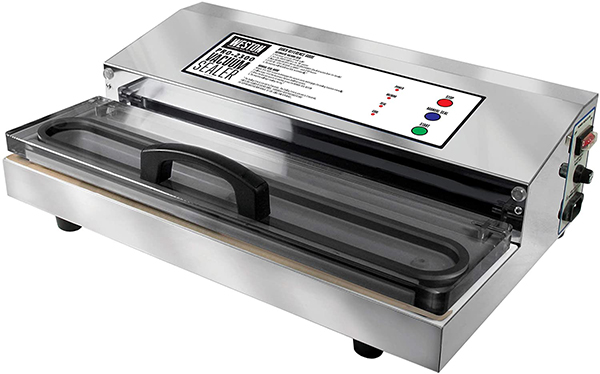 If you are looking for a real professional grade vacuum sealer, then you just need Weston Pro-2300 vacuum sealer for your kitchen. It's a beast considering its power, performance, and durability.
This machine is made of stainless steel. The weight is pretty high though. It weighs around 22 pounds. Like its heavy weight, it can perform heavy-duty too. This machine has a double piston pump which ensures fast and quick sealing. You can seal plenty of bags within around half of the time than other sealers.
The secret behind this professional performance is its power source. It has a power supply of 935watt. With this huge power, you can get your job done so easily and so perfectly. And one-touch operation will make your job even easier.
The sealing bar is quite large. It is around 16 inches long so you can fit extra-large sized bags in this vacuum sealer. FoodSaver and Ziploc bag rolls are ready to fit with this machine. The width of the sealing bar is 5mm. With this sealing bar, you can seal moist items without any tension. And the quality of sealing will be very strong and dependable.
Pro-2300 model has manual adjustable sealing mode. So, you can adjust vacuum pressure while sealing. With this feature, you can seal foods like cakes or other soft foods without any damage to their shapes. And with the transparent lid, you can monitor while sealing your foods.
If you use any vacuum sealer continuously, it will be overheated. But in this machine, there's a cooled motor to avoid overheating from repetitive use. So, you don't need to worry and stop your sealing.
Pros
Heavy-duty machine
Double piston pump
High power supply
Extra wide sealing strip
Adjustable sealing option
No overheating issue
Cons
Liquids can go under the tape
Sealing can't start without vacuuming
Avid armor brand's vacuum sealer is a commercial grade heavy-duty machine. With this powerful machine, you can work in fields and at home. This even suits in a restaurant. And well, for sous viding cooking, this machine is really pretty good.
This machine is made from stainless steel. So, it looks pretty hard. The weight of this machine is 14.5 pounds. This machine has a transparent lid to look inside it. You can monitor the sealing process with it.
A100 model is a very powerful machine, as it has double piston pumps. And the power supply is 450watt. So, the air suction is too powerful. And you will get perfect air-tight sealing with this machine. And sealed food with this machine can last 5 times longer.
If you want to seal soft breakable items, then the pulse function mode can come to help. With this function, you can seal cakes, bread, fruits, and foods those doesn't need strong air-tight sealing. You can also seal chips packet without vacuuming it.
The sealing bar of this machine is pretty wide. It's a 12inch sealing bar that enables you to seal large bags. You will get 30 precut bags with this machine.
For consecutive sealing, this machine has a built-in cooling fan. So, when you will do repetitive sealing, you won't need to stop for the machine to cool down. And with the extra accessories, you can use this machine to seal jars and canisters.
Pros
Commercial grade result
Fits for home and business
Built-in cooling fan
Preserve five times longer
Cons
Issues with suction
Build quality is a bit low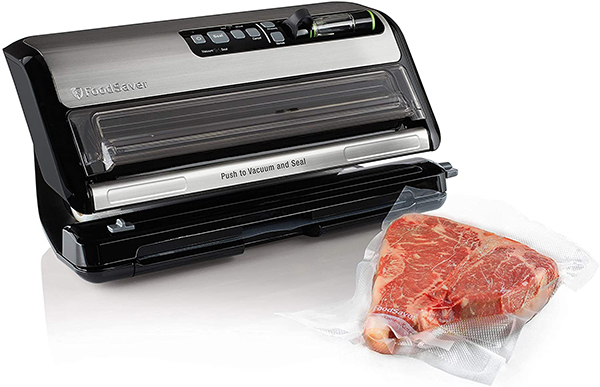 FoodSaver has varieties of machines with different features. For perfect vacuum-sealed meats, FM5200 is another good machine from FoodSaver. Like its previous model, it's also a 2 in 1 machine with some exciting features.
FoodSaver 5200 is ideal for preserving meats as its sealed bag can be kept fresh in the freezer for a very long time. So, you don't have to worry about the leftovers or food wasting. You can just preserve your food by vacuum sealing it. And you will experience no freezer burn at all.
FM5200 has express bag maker technology. With the technology, you can reduce your sealing time significantly. If you need to seal bags continuously, then this will come in very handy to you. The bag preparation steps are less than any other vacuum sealers. The question is how? Well, there's a second heat sealing bar in this machine which automatically prepares the next bag for sealing. Isn't it cool ha?
This vacuum sealer has automatic moisture detection. So, when you put moist foods, the machine detects it and starts sealing in moist mode. So, you don't need to select dry mode or moist mode manually. There's a LED light indicator in this machine.
It has an easy-view window. With this window, you can view inside the sealer. And it let you seal exactly wherever you want. And yes an open roll storage to make sure that you refill the roll when it's empty.
This machine provides a very consistent result with its dual sealing strips. The quality of sealing and time of sealing is pretty impressive than others. With additional accessories, you can seal jars and bottles. And I just want to say that it's a durable machine that you can buy.
Pros
Express bag maker
Easy view window
Has second heat sealing bar
Can seal jars and cans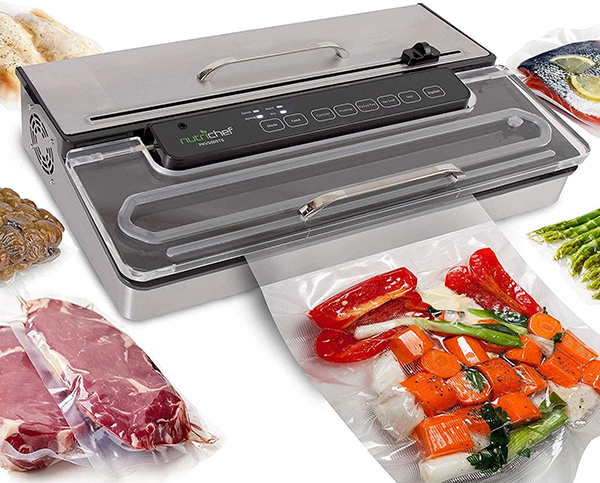 For vacuum sealing meat, this powerful automatic vacuum sealer is one of the best options to buy. NutriChef makes awesome vacuum sealers and their PKVS50STS model is just another great machine. This automatic machine is considered as a commercial grade machine, so you can be able to seal food simultaneously.
If we talk about this, you have to know that this machine has a double piston pump for air suction. And the power supply is 400watt. So, it's pretty powerful ha? And the best thing is that you can adjust the vacuum sealing strength and time. By adjusting air suction, you will be able to vacuum seal both dry and moist type foods.
You want a vacuum sealer for keeping foods fresh for a long time right? This machine will keep food fresh 5 times longer than non-sealed foods. By vacuum sealing, the growth of bacteria and mold is prevented. And the food remains fresh for a longer time.
You will not only be able to seal just meats but also other items like sous viding. There's a digital touch button control panel on the top of the vacuum sealer. From that control center, you can operate the machine so easily. The LED indicator will make your work easier.
The machine is made of stainless steel and it weighs around 17 pounds. It's a heavy machine but it also fits very fine in the kitchen. Air suction hose and different sized bags and rolls are provided with the vacuum sealer.
This machine has a roll cutter for cutting the bag into different sizes. And the bags are just fine to wash and reuse.
Pros
Powerful vacuuming
Dry and moist mode
Stops growth of bacteria
Roll cutter
Cons
Not so good for heavy weight bags
Has durability issue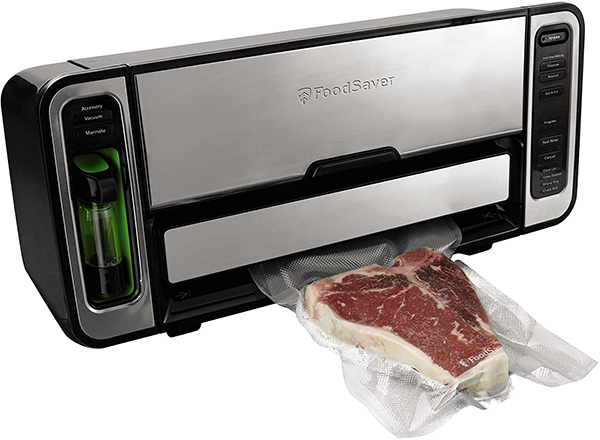 This is FoodSaver brand's yet another vacuum sealer that has a place in this list. V5860 is a fully automatic machine filled with awesome features. This automatic machine is best for airtight heat sealing, marinating, and preserving a bulk amount of meat.
This machine has an automatic bag detection system. The extra-wide sealing strip allows to seal large bags and provides a very strong vacuum sealing result. You can preserve vacuum-sealed meat in the freezer and it will stay fresh 3 years like other FoodSaver models.
V5860 model is totally user-friendly. This has automatic bag dispense and rewind technology. So, you just need to press the dispense or rewind button for doing this job. And by pressing the seal and cut button, the machine will automatically seal and cut it for you. The bag preparation for the next sealing will be done automatically by the express bag maker. So, it will need less time to complete the sealing process.
You can monitor the vacuum sealing progress on the control panel. The progress meter will let you know how much work is done. You will also get notified when the removable drip tray is full. And yes there's an LED light indicator too.
This machine is the perfect one for marinating meat. It has one-touch marinate and vacuum seal modes. With the handheld accessories, you can quickly marinate your meat just by pressing the marinate button.
You will get different sized bag rolls, vacuum bags, zipper bags, and a marinator with this machine. The machine is 8″ and 11″ bag rolls compatible. You can use a handheld sealer and other accessories with this machine. This machine is NRTL tested and approved. So, it's totally safe for use.
Pros
User friendly
Quick bag preparation
Dispense and rewind option
Quick marinating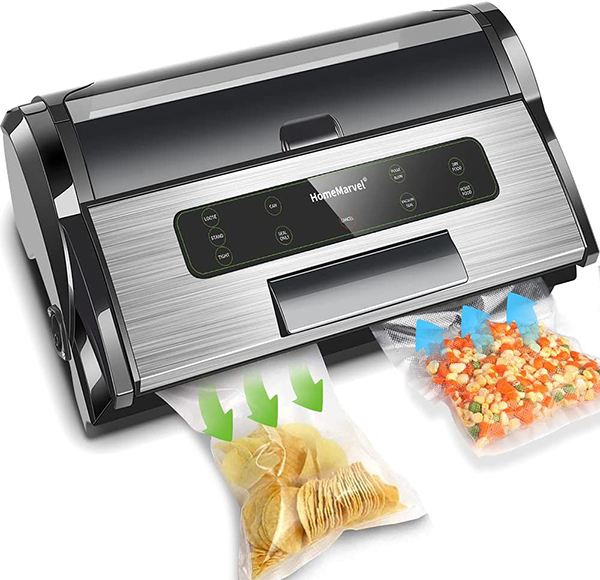 If you are searching for a heavy-duty machine that can be used in both business and home, then this one is for you. Fresh World vacuum sealer is a commercial grade automatic vacuum sealing machine. With its advanced sealing technology, you can preserve meat longer than other vacuum sealers.
This sealing machine supports both dry and moist type vacuum sealing. The sealing strip is 13.8inch long and 4mm in width. So for moist type sealing, this machine can work like a charm. It can easily seal liquid or soupy food items. And the drip tray will catch the drippings so you don't have to worry about making any mess.
You can manually operate the vacuum sealing. It has adjustable vacuum sealing power function. You can adjust the vacuum power from 75kpa to 85kpa. Within this range, you will get the option of loose, standard, and tight air sealing. So, from dry to moist and soft to hard, nothing will be impossible to vacuum seal with this machine.
This machine is made of stainless steel and weighs 9.38 pounds. There's a digital control center on the top of the sealer. You can operate the machine with the touch buttons from that panel. You will also see an LED indicator light there.
Another awesome feature about this machine is inflation mode. To enable this mode, you just need to change the direction of the drip tray. Then it will start the inflation mode.
You will get an integrated roll cutter with this machine. And this machine can seal 3 bags at a time. Isn't it amazing? For repetitive sealing, it can seal 100 bags continuously. After that, you will need to give it a short break. So, this will come in very handy for a large number of operations.
For starting you will get some large and medium-sized bags and a vacuum sealer roll. An air suction hose and the power cable is also provided with the machine. Oh the last thing to say, this machine will give you a noise-free sealing experience.
Pros
Advanced sealing technology
Noise-free
Removable drip tray
Inflation mode
Continuous operation
Cons
Might not be easy to use
Complex instruction
Geryon brand produces good quality vacuum sealer machines. Their automatic compact food sealer machine is perfect for home use. You can preserve vacuum-sealed meat in the freezer and it will stay good for 2-3 years. So, that means this machine will be able to serve your purpose well.
The easy operable machine has automatic vacuum sealing option. So, your work will be trouble-free. This machine will provide you freezer burn free foods. And it can save you time and money. The suction power is pretty impressive. You can vacuum seal anything under 20 seconds.
This machine provides you various modes of operation. Let's talk about those. Primarily it has two modes of sealing: just sealing and vacuum sealing. You can just seal the bag of chips or snacks to keep them fresh. And for other types of foods like meat, you can vacuum seal. You will find another mode called canister. This mode is for sealing containers.
Other than three modes, you will see the food and mode button on the control panel. From food mode, you can select dry or moist food mode. And from the mode button, you will get to choose the vacuum strength: gentle or normal. With all these four modes, you can seal whatever you want.
This machine is pretty compact and lightweight. So, you can even carry it with you. It has a digital control panel and LED light indicator. With this machine, you will get a starter pack of an air hose, some heat-sealed bags, and one bag roll.
Pros
Compact food sealer
Powerful suction
4 mode sealing
LED indicator light
Cons
No bag storage
No built-in cutter

GameSaver GM710-000 is a specially designed vacuum sealer for using in both field and kitchen. It's made in a way to be carried easily. The rugged gaming design gives it a pretty cool look.
Well, it doesn't only look good, it can also do powerful sealing too. Food sealed with this machine remains fresh for 5 times longer. And for vacuum sealing meat, this machine is awesome. The food will definitely be freezer burn free.
No doubt that this machine is a heavy-duty machine. This powerful machine can seal 80 bags consecutively. And in terms of weight, it can seal 240 pounds. So, you don't need to worry about your tons of work.
This machine is perfect for a field trip. With the machine, you will get a 12volt dc adapter. So, you can use this machine in a car, boat, or RV as well. If you love hunting, then this vacuum sealer can come in very handy to you. You can vacuum seal your hunted meat with this sealer.
This machine is the perfect example of grab and go. This machine is not too heavy as it weighs around 3.6kg. And this is made of plastic. This machine has a carry handle, so you can carry it by your hand anywhere.
This machine has an integrated roll cutter. And oh yes, a removable drip tray as well. So, what I am trying to say that this GameSaver vacuum sealer machine is everything that you need.
Pros
Rugged gaming design
Carrying handle
Perfect for field trips
Built-in roll cutter
Cons
Overheating on continuous use
Slow suction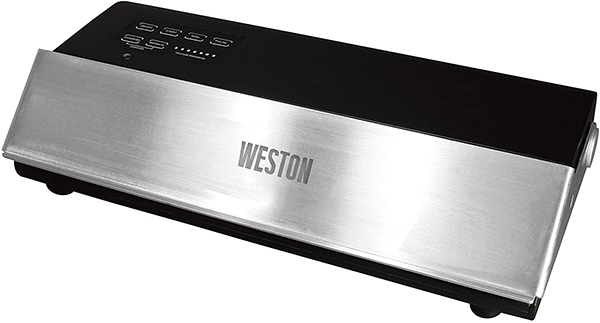 Weston brand's 65-0501-W model is another vacuum sealer that has been able to put its name on this list. This machine is a compact and lightweight machine with the professional advantage of vacuum sealing.
With this powerful machine, you can easily preserve your meat for a long time. The 23″Hg vacuum strength will suck all the air and give you a perfect air-tight sealing. The power supply is 230watt which is good at this price range. So, you will get a quick and pro performance with this machine.
The machine is made from stainless steel and weighs 7.45 pounds. So, you can also carry it. There's a digital control panel and LED indicator light on the top of the vacuum sealer. You can operate this machine easily as it's an automatic machine. You can monitor vacuum progress in the control panel.
This machine has a marinate mode to marinate your food perfectly. And with the manual seal mode, you can adjust vacuum pressure for breakable soft food items. You can also use this for canisters and jars. However, you can seal 11″ wide bags with this machine.
With the cooling fan motor, you can vacuum seal continuously with this machine. And no overheating issues. You will get 15 vacuum bags included with this machine.
Pros
Quick sealing
Digital control panel
Marinate mode
Adjustable vacuum pressure
Good for repetitive use
Cons
No roll storage
Has issues with automatic feature
Final thoughts
So, we have already come to know about some of the best vacuum sealers for meat. Now you can easily decide which one to get. So, set up your priorities and choose the best one from the list. And yes, don't forget to share your experience with the new vacuum sealer with us.