I know the challenge of buying a vacuum sealer. The market is full of different models, designs and types of vacuum sealers. As a result, making a precise buying decision is not an easy fish to fry.
You will find 3 different types of vacuum sealers in the market: external or suction, chamber and handheld vacuum sealers. Learning about their functionalities, features, pros, and cons will help make a clear decision.
Intently read this comprehensive guide. I looked at each vacuum sealer type and compared them based on their performance.
Comparison Chart of Different Vacuum Sealer Types
I prepared the below comparison chart based on the vacuum sealer types. Read them carefully.
| | | | |
| --- | --- | --- | --- |
| | | | |
| Comparison Factor | External Vacuum Sealer | Chamber Vacuum Sealer | Handheld Vacuum Sealer |
| Size | Compact | Large | Compact |
| Weight | Lightweight | Bulky | Lightweight |
| Types | N/A | N/A | Corded and Cordless |
| Operating process | Uses heat to seal | Uses heat to seal | Uses sealing port to seal |
| Sealing Capability | Small to medium-sized bags | All types of bags | Small bags |
| Suitable for | Home use | Commercial use | Small family |
| Price | Affordable | Expensive | Affordable |
What are the Differences between Vacuum Sealer Types?
When I used each sealer type in my kitchens, I found that they come with distinctive features. Here I shared definitions with the functionalities of different sealers. This section will give you a clear idea of which vacuum sealer to buy to save your time in the kitchen.
What is an External or Suction Vacuum Sealer?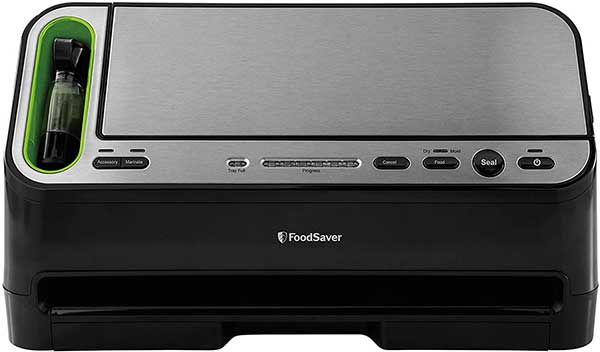 These vacuum sealers are ideal for small commercial kitchens or home cooks. They are compact and inexpensive. Some models are available for less than $150.
In order to make the operating process straightforward, they consist of a sealer bar, a display, and an accessory port. The sealer bar is truly a bag sealer attached to the base using a hinge. To operate these devices, you must place the bag's open side under the bar. Then press the bar down. This way, all air will get removed or sucked from the bag, and the bag will be closed.
You will love to know that manual press down is unnecessary to vacuum seal for some external vacuum sealer models. Also, an accessory port helps you seal containers, jars, etc.
However, since these kitchen appliances use a suction mechanism to create a vacuum, they are not a good choice for vacuum sealing liquids. Interestingly, this problem has a solution. Freeze the liquid and seal it, easy-peasy! While most people may find it an excellent option for sealing large batches of foods, they are not a good option.
Key Features:
Good for home use
Affordable price range
Compact size that doesn't take up much space in the kitchen
Several styles of external vacuum sealers are available
Creates rough texture in the open end, keeping food fresh for many days
What is a Chamber Vacuum Sealer?
First of all, when describing the chamber vacuum sealer, I must say these are the most thoroughbred horses in the vacuum sealing industry. Also, as expected, they are expensive compared to the external and handheld vacuum sealers.
These appliances consist of a display and a large chamber. A lid is also there to cover the chamber. They are easy to operate as manual work is less with these devices. All you need to do is, place the food inside a vacuum sealer bag and put it into the appliance's chamber. The air will be evacuated from both the chamber and the bag.
One of the best things about chamber vacuum sealers is their working procedure. They don't suck the air to seal a food item. As a result, vacuum sealing soups, stocks or other liquid items is effortless with these vacuum sealers.
More importantly, you can control the amount of vacuum with these appliances, allowing you to vacuum seal delicate foods like fish.
Chamber vacuum sealers are bulky and take up much space on the countertop. They will be a great choice if you want to seal large batches of food.
Key Features:
Best-suited for commercial use
They can vacuum seal a wide range of foods, making them versatile
Let's you vacuum seal the more complicated techniques with ease
They can seal larger bags
Easy to operate
What is a Handheld Vacuum Sealer?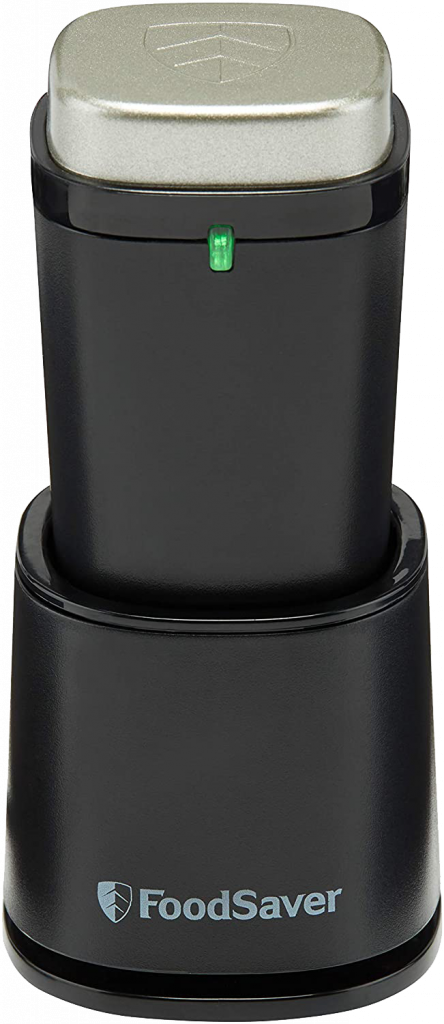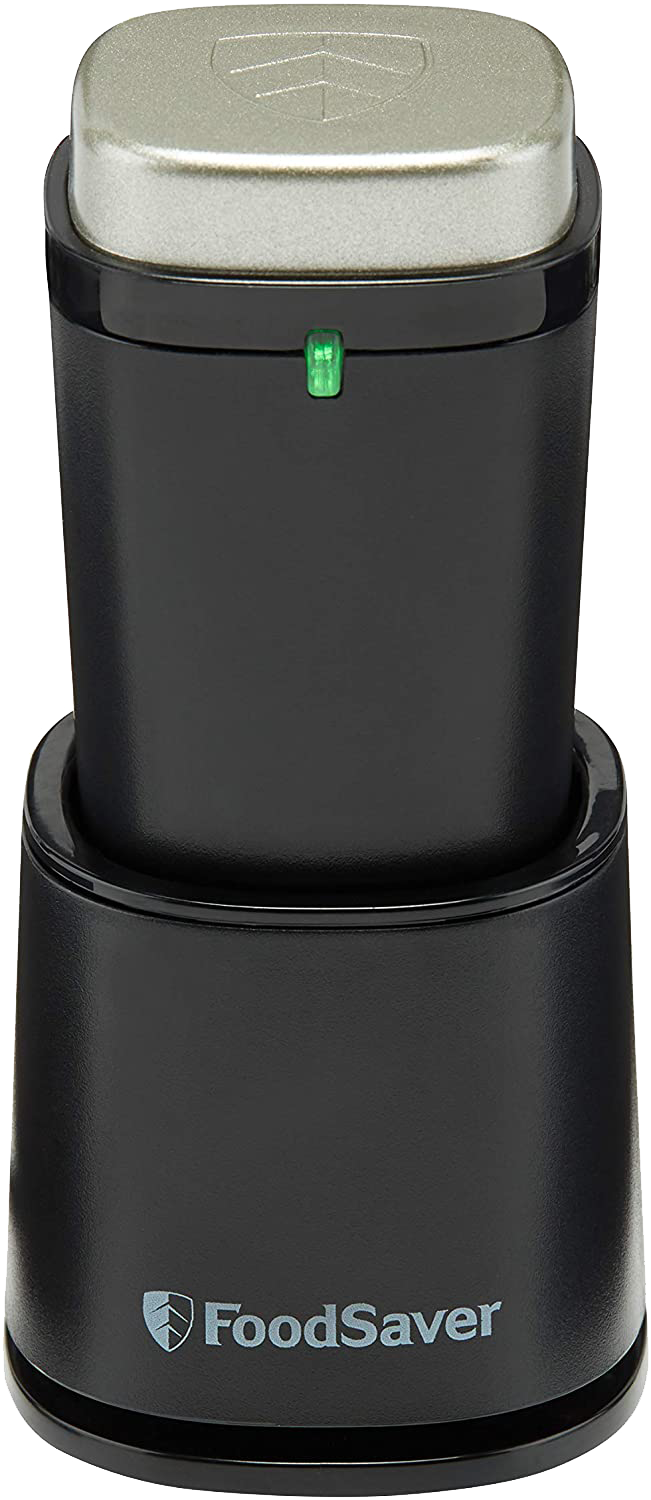 From the name itself, it is clear that you need to hold the handheld vacuum sealers and pouch rather than placing them on a flat surface. There are 2 types: cordless or corded. Moreover, you will find them in 2 styles: small pump size and pistol size. These devices often consist of a pulse button.
The main difference is in the operating process. Both external and chamber vacuum sealers use heat to seal a bag. On the other hand, a handheld vacuum sealer comes with a sealing port, allowing you to vacuum seal a food item.
They are not as effective as the other two types, but these appliances are efficient enough to seal food and keep it fresh for many days.
Handheld vacuum sealers don't need much storage space; they are affordable. Their lightweight feature doesn't create a problem carrying from one place to another. This way, you can vacuum seal anywhere you want.
Key Features:
Lightweight and portable
Corded and cordless types are available
They take less storage space
Good choice for a small family
Reasonable price
External vs. Chamber vs. Handheld Vacuum Sealer – Which one to Buy?
The buying decision entirely depends on your preference.
Buy an external or suction Vacuum Sealer,
If you need to vacuum seal small to medium batches of food at home
Buy chamber Vacuum Sealer,
If you need to vacuum seal small, medium, and large batches of food at a commercial kitchen
Buy Handheld Vacuum Sealer,
If you need to vacuum seal small batches of food for your small family
Wrapping Up
There is a lot you can do using a vacuum sealer. Before making a buying decision, you must know your preference. Investing in the wrong kitchen appliances means your investment, hard work, and time are wasted.
I believe this guide on what are the differences between vacuum sealer types will help you make a good decision.