Have you purchased your foods in bulk and looking for a reliable solution to freeze them for a longer period?
If so, then vacuum sealers are the appliance for commercial kitchens for delivering goods to bulk shoppers. It mainly does the removal of air from the bag interior holding the food and then seals the entrance. At present, this handy machine is finding its way to residential kitchens thanks to its great serviceability.
There is a large number of sealers in the current market and it is indeed not any simple feat to narrow down the list. Without knowing the best ones and buying the guide, you can easily be misled to a poor quality product. To help you skip that part, we presented a detailed review of 10 sealers in our best vacuum sealer under $100.
What is Vacuum Sealer?
Among various types of bag heating sealers, a vacuum sealer is one that is mainly used for packaging purposes. The sealer has a heavy-duty system to take out the entrapped air from inside the polybag and automatically seal the entrance.
It mainly features an air compressor or vacuuming pump and motor to deliver the suction power. The sealer can be used for preserving raw or cooked foods, coffee products, electronics, and even papers that may experience immediate or eventual breakdown when remained exposed to air.
Read the full mechanism of a vacuum sealer here.
Comparison Chart for the Models
#
Preview
Product
Price
01

NutriChef Automatic Vacuum Sealer For Food

Dimensions : 14.1 x 6.0 x 3.0
Weight: 2.93 pounds
Included Bag Number: 5 (M)

02

Foodsaver Vacuum Sealer For Food Preservation

Dimensions : 5.91 x 10.64 x 17.72
Weight: 1 pounds
Included Bag Number: 3(S) + 2(M)

03

NESCO Deluxe Vacuum Sealer VS-12

Dimensions : 15.75 x 8 x 4.5 inches
Weight: 6 pounds
Included Bag Number: 5(S) + 5(M)

04

Enhanced KOIOS Vacuum Sealer for Food Preservation

Dimensions : 15.13 x 8.11 x 4.68
Weight: 3.75 pounds
Included Bag Number: 5(S) + 5(M)

05

Seal-a-Meal Manual Vacuum Sealer System

Dimensions : 17.1 x 9.3 x 6.15
Weight: 1 pounds
Included Bag Number: 4(S)

06

Gourmia Multi Function Vacuum Sealer for Food

Dimensions : 5.5 x 15 x 2.75
Weight: 2.47 pounds
Included Bag Number: N/A

07

Mueller Vacuum Sealer for Food

Dimensions : 16.5 x 7.75 x 4.9 inches
Weight: 2.2 pounds
Included Bag Number: 5(M) + 01 Extra long roll

08

Crenova Food Vacuum Sealer and Cutter

Dimensions : 3.95 x 14.2 x 7.48
Weight: 2.9 pounds
Included Bag Number: 5(M) + 5(L)

09

GERYON Food Vacuum Sealer with Starter Bags

Dimensions : 14.2 x 5.9 x 3.4
Weight: 4.08 pounds
Included Bag Number: 5(S) + 5(M)

10

KitchenBoss Vacuum Sealer Machine for Food Preservation

Dimensions : 14.96 x 4.72 x 2.68
Weight: 4 pounds
Included Bag Number: 10(S) + 10(M)
Our Top Picks
Here goes the review section with the necessary details of every chosen product you will need to know. The review is completely based on customer review and expert analysis. Start scrolling the section to pick the most suitable gear for your kitchen.
1 of 10
The Rank Of NutriChef Vacuum Sealer Under $100 In Consumer's Market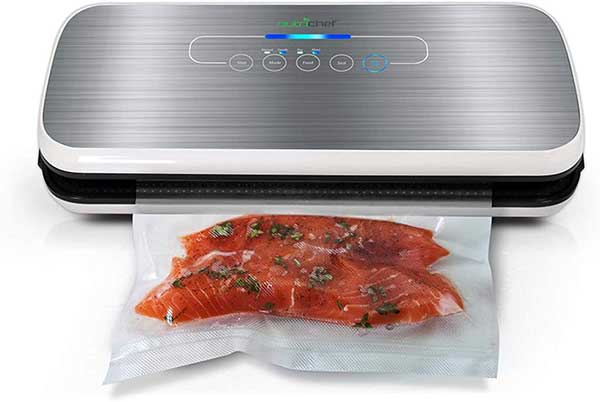 You can equip your kitchen with a more modern product like this that suits a wider range of styles with utmost ease. The NutriChef product from our vacuum sealer reviews ensures reduced air and limited growth of bacteria to induce the retention of freshness to a great extent. Convenient appearance, easy handling, simple cleanup, and effective preservation; all come in a single package for this unit.
Features and Benefits
Pros
Sturdy and durable construction for ABS frame comes with outstanding silver appearance.
Additional gears for the package offers better preservation for a reasonable amount of foods.
Convenient storage contributes to increasing the shelf life for both dry and moist foods.
Simple electric plugin design ensures hassle-free and safe preservation process.
High-quality sealing bags of polyimide are re-usable and stands against the longer application.
Cons
Poor stability of the frame causes the tendency to tip over when the lid is taken out.
At first, some sealing may leave considerably high air inside due to poor placement.
Verdict
Offering a complete package for effective preservation, this one is definitely worth your investment. Having this one will provide great storage in limited space to adorn your kitchen perfectly.
2 of 10
This Is Why FoodSaver V2244 Vacuum Sealer Under $100 is So Famous!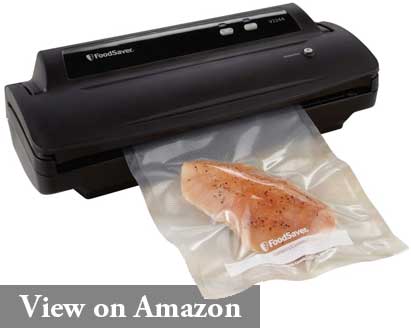 The starter storage kit from FoodSaver has everything to meet all your food preservation requirements. The overall assembly is designed to take out the air and keep freshness all the way. This kitchen appliance got the perfect serviceability to eliminate waste and save money.
Features and Benefits
Pros
Able to keep the food preserved for 5x longer in the freezer and 2x longer in fridge/pantry.
Sealing fresh container and start marinating within minutes through instant sealing feature.
Included roll and bag withstand the boiling temperature and offer consistent efficiency.
Sufficient amount of storage facility for food with three 1-quart and one 1-gallon bags.
11" x 10" sized heat roll provides immediate air removal after the lid is closed & vacuumed.
Cons
Leaks are likely to take place for the included bags which may cause to buy new ones.
Overfilling the bag or making it quite small will not provide a good preservation service.
Verdict
The complete design and suitable appearance will do the perfect job without delay for the foods. The affordable market price for this unit is worth buying to experience the best preservation.
3 of 10
NESCO Food Vacuum Sealer Under $100 in the Market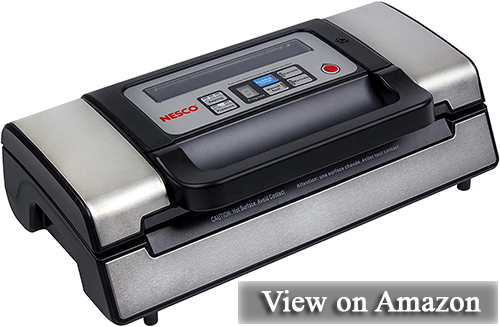 You can easily eliminate spoilage, freezer burn and waste with this advance sealing unit. With a larger number of included bags and wider compartment, you can preserve different items at once. Through multi-functionality features, you can get the maximized retention of freshness for sure.
Features and Benefits
Pros
Well-made construction induces outstanding appearance along with suitable shape.
Convenient storage facility with the heating roll and power cord compartments.
10 bags having 2 different sizes offer maximum storage of a wider variety of foods.
Multiple functionalitiesallowattaining optimum preservation convenience easily.
Incredibly easy single-touch operation induces safety with automatic shut-off.
Cons
The working sound for the machine may seem to be noisy while vacuuming.
Only basics are available in user manual which takes time to figure out.
Verdict
You can get the best of a vacuum sealing in affordable price to save your leftovers for this unit. And with advanced features, you can go for document or paper storage apart from the food as well.
4 of 10
Enhanced KOIOS TVS-2150 Vacuum Sealer – 2 IN 1 Automatic Vacuum Sealing Under $100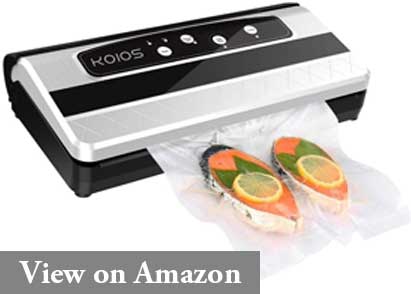 Designed to deliver the maximum sealing efficiency and suitable kitchen appearance, you can attain the best preservation for lots of meals. The functionality and performance for this one from our vacuum sealer reviews are incredibly great to ensure optimum heating pressure.
Features and Benefits
Pros
Superior construction for the frame ensures maximum durability to withstand rigors.
Faster processing performance can take 40 consecutive seals to reduce leftover waste.
Drip tray is removable and ensures lossless suction without obstructing the airway.
Included rolling back prevents possible dropping for the bags with single-shot cutter.
10 bags included helping the user to make hassle-free & convenient storage of foods.
Cons
Instruction manual provides only the basics and is not easy to follow for beginners.
Placing lots of bags cause the heat to rise which may eventually melt the plastic bags.
Verdict
With easy operation and maintenance for this unit, you will eliminate waste from your kitchen. The affordable price and useful features contribute to delivering the enormous 4S functionality all along.
5 of 10
Seal-a-Meal Manual Vacuum Sealer System Under $100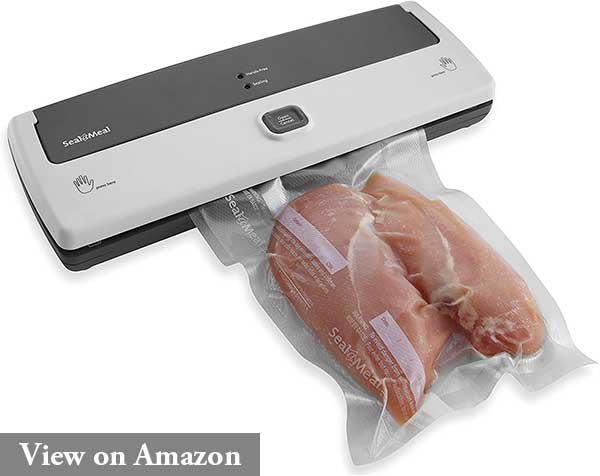 Start avoiding waste and stretching the food money with this economic choice for vacuum sealing. The system is perfectly designed to fit several foods inside. It has everything to keep for a longer time compared to other methods.
Features and Benefits
Pros
Efficient removal of air from the inside to reduce the deteriorating action over the food.
Confident storage to retain the original taste and freshness of meats, fish, vegetables, fruits.
Time-saving preparation of meals ahead of scheduled time thanks to the faster processing.
Compatible design to fit both 8" and 11" sized plastic bags to store a sufficient amount of food.
Single-touch operation requires both hands to press the lid to start the vacuuming action.
Cons
The vacuum sealing system is suitable to fit only 5 – 8" wide bags.
Not a good option to seal soups, marinades,andcook-ahead marathons.
Verdict
As a kitchen appliance, it is indeed a great option for getting your foods safe all the way with its fresh taste. Being available in affordable price, you can rely on to get the best of food preservation.
6 of 10
Gourmia Multi-Function Vacuum Sealer – Preserve & Store Food or Vacuum for Sous Vide Review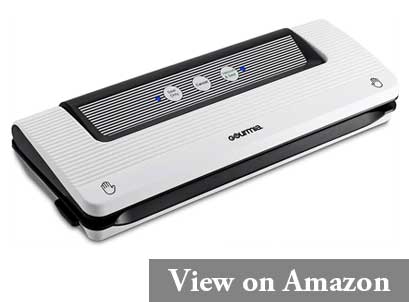 Make your everyday leftover cooking a more delicious, time-saving, and healthy experience with this multi-functional sealer. The design for this Gourmia is capable of delivering higher efficiency, value, and performance. Therefore, no more wastage will take place with this versatile kitchen appliance.
Features and Benefits
Pros
Designed properly to lock and therefore, preserve the original food color, taste,and freshness.
Suitable appearance with sturdy construction easily suits and adorns the kitchen corner.
Quick and efficient sealing performance blocks liquid the for both dry and wet solid foods.
Simple and easy to control features through the 3-button interface for the sealing system.
Included plastic bags of quality plastic offers better and safer processing and storage facility.
Cons
Sealing multiple bags simultaneously will take considerable time for cooling down the strip.
Larger sized bags provide plastic waste and smaller ones will cause loss of suction power.
Verdict
Extend the life of your leftover and skip the part of throwing foods every day in plastic containers. The powerful suction is enough to keep the food fresh and definitely worth its market value.
7 of 10
Mueller Automatic Vacuum Sealer Review Under $100
You can take food preservation to a whole new level with this ergonomic, versatile model from Mooka. The complete package has all the things you will need for perfect preservation. This one from the best vacuum sealer reviews will deliver maximum efficiency without delay.
Features and Benefits
Pros
Superior and non-consumable design for the system provides optimum sealing efficiency.
Energy-saving motor of 110 Watt delivers incredibly high suctioning power for the foods.
Included cutter for rolling bag enables to resize and create bags according to requirement.
Reasonable sealer width of 30 cm can work for 40 times in a row without any damage.
Featured external pumping allows storinga wide variety of foods and liquids with safety.
Cons
Instructions from user manual are difficult to understand and follow for beginners.
Heating up the bags may take considerably longer time due to poor placement.
Verdict
With this upgraded machine, you will enjoy the best meal from your regular leftovers with ease. The moderate market price makes the sealer an economic choice to prepare your meals with delicacy.
8 of 10
Crenova V60 Plus Vacuum Sealer Under $100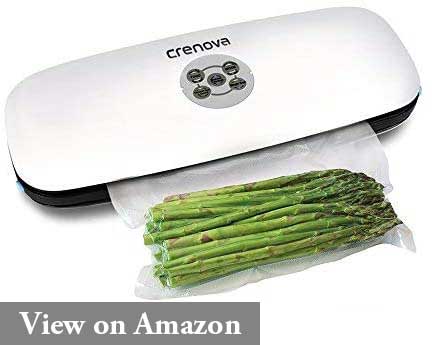 Start experiencing a new level of food preservation for your leftovers with this one. With user-friendly design and helpful features, this one from vacuum sealer reviews will save your time and money. Whether you need to preserve seasonal foods, prepare party dishes, store leftovers, you can rely on this unit.
Features and Benefits
Pros
Included vacuum pipe helps to lock the original freshness, nutrients,and flavor right away.
Additional vacuuming bags allow the user to store and preserve a sufficient amount of foods.
Incredibly easy operational steps offer the best preservation quality for any food leftovers.
Compact design induces better portability and requires less space regardless of its position.
Featured cutting knife allows creating custom-sized bags according to your requirement.
Cons
Louder suctioning noise is likely to occur than other models while the process is going on.
Direct on/off over plugin without any particular on/off button seems to be leery.
Verdict
You can get the freshness of just-cooked meals from your leftovers easily with this sealer. The complete set is available at a moderate price and you should look into this to reduce the wastage of food.
9 of 10
GERYON Vacuum Sealer Under $100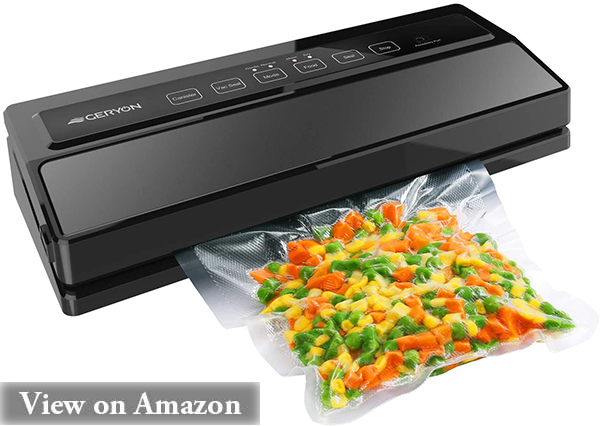 This versatile unit from Geryon does the work with utmost efficiency and least mess all the way. Compact and ergonomic construction delivers the best performance regardless of the preserved food. Just hang on with this one and you will experience reduced waste and spoilage for sure.
Features and Benefits
Pros
Sturdy construction using durable material increases lifespan and serviceability all along.
Complete sealing package includes vacuum sealer, bags, roll, wine stopper &suction hose.
Stronger suctioning with a powerful motor to remove the deteriorating air in seconds.
Easier operation through built-in LED light, electric plugin and a user-friendly interface.
Convenient 4-in-1 vacuum sealing allows to store and process numerous types of foods.
Cons
Weak and unclear instructions from the manual are difficult to understand or follow.
Default mode is dry which may cause some problems with processing wet foods.
Verdict
With ETL approval and separate sealing functionality, you will get the maximized efficiency at a reasonable price. The design has everything to provide your leftover a new life again.
10 of 10
Best Vacuum Sealer Machine for Preservation Under $100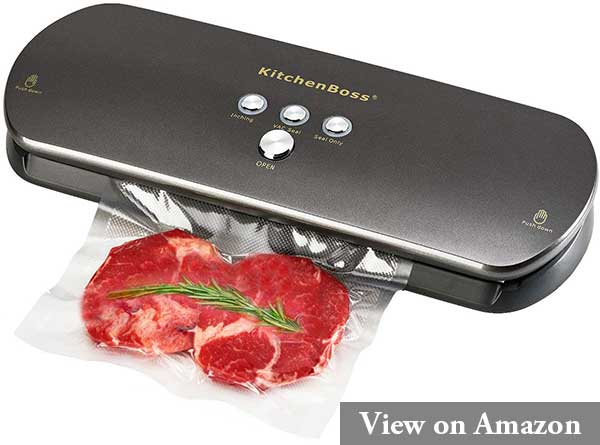 Providing numerous user-friendly features along with outstanding exterior design, this unit from our best vacuum sealer reviews will give the perfect preservation service. Additional 20 bags of 2 different sizes will deliver greater space and facility to store your leftovers for the next meal.
Features and Benefits
Pros
12" wide sealing strip is compatible with almost all kinds of bags and rolls without difficulty.
Automatic turning off the interior heating element ensures safety for the user & equipment.
Greater portability and comfortable handling of the system through lightweight construction.
Built-in modes offer 4 different functionalities to store and preserve a wide variety of foods.
Powerful motor with effective vacuuming pump delivers sufficiently high suctioning power.
Cons
Weak combination of different parts may not last much longer over intense or heavy usage.
Defective design is likely to cause the light to stay turned on/flashing when it is not in use.
Verdict
Although it has some minor issues regarding service, you will attain satisfaction till the end. Offering versatile features at a reasonable price, this unit is a great choice to keep your foods.
Before moving into the buyer's guide, you can take a look at the ultimate maintenance guide here.
Editor's Pick
After reviewing all the best 10 from our best vacuum sealer reviews, it is indeed a difficult task to make a specific choice. But if you ask me to pick, I would like to have the very first one for myself.
The Automatic Vacuum Air Sealing System For Food Preservation by NutriChef comes with incredible versatility that you will find at a reasonable price. You will get unparalleled preservation for your foods, utmost ease of use, simple maintenance task, and economic application all the way. The overall framework combining useful features induces a perfection to suit your kitchen for sure.
Buying Guideline
Getting the best vacuum sealer is an important issue as it reduces your food waste and stores leftovers. More advantages here.
There are many models of vacuum sealers and few ones provide the best service. You need to know certain factors regarding the sealer quality which will help you to get the best one with ease.
Frequency of Usage
You have to figure out how often you intend to use the sealer. Also, you have to determine the number of stuff that you want to pack on each session. Different sealers come with different sealing capacities and you have to make the choice according to the frequency and amount.
Construction & Portability
With good construction and sturdy material, you will definitely get better serviceability. Apart from a stiff framework, it needs to have a lightweight body to enable sufficient portability. Besides, you can also check out for a good appearance to suit your style.
Sealing Speed
Faster sealing speed will result in packing more bags in a short time. This is quite important when you go for commercial applications. Whether you want to use it for domestic or commercial applications, you have to check out the rate at which the sealing can be done.
Suction Power
Higher suction power will cause immediate and proper removal of air through vacuuming action which is the most important criterion for successful preservation. As it depends on power consumption, you have to check the technical specifications quite well.
Applications
What type of food you want to store has a great significance over the desired output. There are modified and advanced ones for handling heavy meals and there are others to store something other than foods. You should determine the stuff you would like to store.
Working Modes
There are different working modes available with good models to enable storing different kinds of foods. The numbers of modes are variable and mostly provided to handle a particular type of food.
Still worried about how healthy vacuum-sealed foods? Read the tips from the expert here.
Conclusion
When you want to cut short the kitchen expense and time consumption, the easiest way is to reduce the food waste, spoilage, and freezer burn. And you will need to extend the food shelf life to attain that. Using a good quality sealer will give you the best assistance to get that. After going through our best vacuum sealer reviews, you will not need to do any more troublesome searches. Each of the aforementioned ones provides the best possible preservation service at a reasonable price in the first place.
Still, have questions? Visit the FAQs of a vacuum sealer to get rid of confusion.